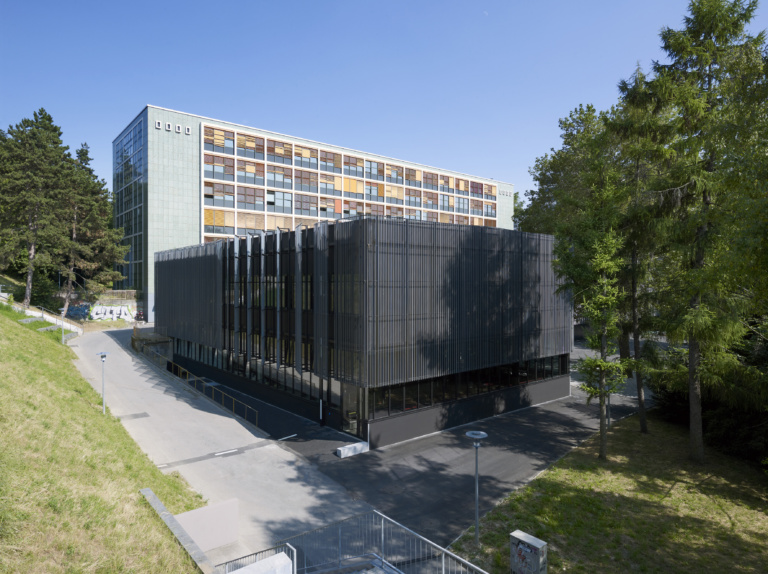 ABOUT
Arsenic is an art center dedicated to contemporary creation in dance, theatre and performance. As a laboratory and co-production platform, its program and artistic support policy encourages new conversations and new aesthetics with an ambitious family of Swiss and international artists. A place of discovery, with its open-plan approach and affordable rates, that offers an extensive access to contemporary scenic arts.
---
ON FOOT / BY PUBLIC TRANSPORT
From the Flon neighbourhood, take the rue de Genève and follow the signs. M1 stop Vigie, bus no.18 stop EPSIC. Bus no.3 stop Cécil, Buses no.9 and 17 stop Chauderon, bus no.16 stop Tivoli: take the lift down from the Chauderon bridge.
---
PARKING
Parking spaces are available on the rue de Genève and in the Flon car park. The SiL and EPSIC parking spaces at Sévelin are free in the evenings (however, we are not responsible for these parking spaces).
---
REDUCED MOBILITY
The venue, parking and toilets are all accessible for persons with reduced mobility. Information: mail /+41 21 625 11 36
---
HEARING IMPAIRMENT
Recommended, very visual shows (without sign language) are marked with the usual pictogram. The "T" indicates when the room is equipped with a magnetic loop system. Information: mail /+41 21 625 11 36
---
VISUAL IMPAIRMENT
Recommended shows that contain significant spoken matter (without audio descriptions) are marked with the usual pictogram. It is possible to request a special welcome, with an introduction to the show and a set visit. Information: mail /+41 21 625 11 22
---
RELAX PERFORMANCES
The Relax performances offer a more adequate experience for persons with disabilities, or who wish to access the performances in more flexible conditions. In concrete terms, this means that the artists perform as usual, but some technical adjustments can be made if necessary (reduced special effects or lowered sound effects) and the audience welcome is much more flexible (house lights on, possibility to enter/leave and express oneself at will…)
Since January 2017, the four partner theatres of the Grand 8 (Arsenic, La Grange de Dorigny, Théâtre 2.21, CPO) each offer Relax performances with the support of the Forum Handicap Vaud, who acknowledge and encourage this endeavour.
---
TEAMS
ADMINISTRATION
Director: Patrick de Rham
Deputy Director: Ivan Pittalis
Head of Communication: Anne Ségallou
Mediation Manager: Maude Herzog
Box Office and Daycare Manager: Hélène Bahon
Administrative Officer: Elsa Delacrétaz
Communication Assistant: Juan Moreno
Box Office Assistant: Samrawit Zehaye
Apprentice Passerelle culturelle: Wiley Gonzalez
CAFÉ
Café Manager: Lionel Grivet
Cook: Gaëtan Delmotte
Kitchen Helper: Buchung Sezergonma
TECHNIQUE
Technical Director: Duri Darms
Stage Manager: Manuel Ducosson
Technicians: Alexis Carruba, Denis Waldvogel
Apprentices stage-technicians: Filipe Pascoal, Diana Ulyanova
INTENDANCE
Intendant: Mauro Pin
Maintenance: Virginie Bonnet
EXTERNAL COLLABORATORS
Graphic design: Maximage, Geneva/London/Zurich
Web development: Maxime Schoeni
Translator: Sarah-Jane Moloney
Proofreader: Julie Weidmann
FOUNDATION COUNCIL
Florence Bettschart-Narbel, Michael Kinzer, Pierre Imhof, Federica Martini, Anne Papilloud
---
ARSENIC
Centre d'art scénique contemporain
Rue de Genève 57
CH-1004 Lausanne
www.arsenic.ch
info@arsenic.ch
+41 21 625 11 22 administration
+41 21 625 11 36 box office