✕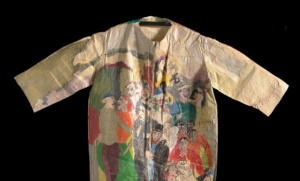 Garrett Nelson x Cathy Josefowitz (CH/USA)
Anacrónica II: Lying on the Hip
Performance/Installation
45'

C

Young audience welcome (8+)

B

Accessible to persons with reduced mobility
Curation: Elise Lammer. Collaboration: Arsenic – Centre d'art scénique contemporain, Lausanne, Centre culturel suisse. Paris, La Becque | Résidence d'artistes, La Tour-de-Peilz, Kunsthaus Langenthal. En collaboration avec les Amis de Cathy Josefowitz.
Cathy Josefowitz (1956-2014) was a prolific artist from a very young age. Her work is characterised by a quest for the self and its otherness, expressed through painting, drawing and choreography. Born in 1956 in New York, this Swiss artist never ceased to explore – sometimes to the point of obsession – what makes up the body: her own, but also that of others. Anacrónica II: Lying on the Hip is the result of a research project led by performer Garrett Nelson on the work and legacy of Cathy Josefowitz. The aim is to create a transgenerational dialogue between two artists whose work intersects dance, performance and queer studies.
Garrett Nelson developed this project at the joint invitation of the Arsenic, the Centre culturel suisse de Paris, La Becque and the Kunsthaus Langenthal, in collaboration with curator Elise Lammer and the Amis de Cathy Josefowitz association. This performance is part of the retrospective touring exhibition of Cathy Josefowitz's work at the Kunsthaus Langenthal, the Centre culturel suisse in Paris and the MACRO Roma in collaboration with curator Elise Lammer. It will be held successively in the three institutions between August 2021 and March 2022.
Performance: 30'
FRI 24 SEP 19:30
SUN 26 SEP 16:00
SAT 09 OCT 20:00
Installation
Free entrance (except during performances)
FRI 24 SEP 18h-21h30 Vernissage
SAT 25 SEP 18h-21h30
SUN 26 SEP 15h30-19h30
THU 30 SEP 18h-21h30
FRI 01 OCT 18h-21h30
SAT 02 OCT 18h-21h30
SUN 03 OCT 15h30-19h30
THU 07 OCT 18h-21h30
FRI 08 OCT 18h-21h30
SAT 09 OCT 18h-21h30
SUN 10 OCT 15h30-19h30
The schedules of the installation are detailed at the bottom of the page.