✕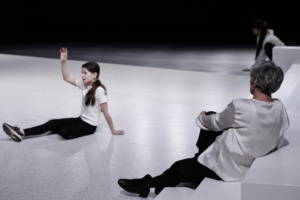 CLAIRE DESSIMOZ (CH)
Invitation
110'

F

Hearing-impaired spectators welcome

G

Hearing loops

C

Young audience welcome (8+)
Concept et direction: Claire Dessimoz. Interprétation: Marie-Danielle Brunet, Philippe Chosson, Éléonore Heiniger, et en alternance Joseph Chosson et Shirine Künzle. Lumières et scénographie: Florian Leduc. Musique: Christian Garcia. Texte (interviews/sélection/montage): Bruno Robyr, Claire Dessimoz. Dramaturgie: Aurélien Patouillard. Costumes: Jenna Calderari. Collaboration artistique: Nicolas Raufaste. Collaboration textes autour de la pièce: Laurence Wagner. Administration: Marianne Caplan. Coproduction: Arsenic, Lausanne. Soutiens: Ville de Lausanne, État de Vaud, Loterie Romande, Pour-cent culturel Migros, Fondation Nestlé pour l'Art. Remerciements: Les FAC/St-Ursanne, Nicole Seiler, Trân Tran, Simon Hildebrand, Raphaël Oesterlé, Philippe De Rham, Emma, le zinema, l'équipe de l'Arsenic et tout spécialement les nombreux interlocuteurs et nombreuses voix qui ont contribué aux échanges d'idées et aux archives sonores.
Site web de la compagnie
Invitation
To those I am not required to rub shoulders with anymore
To those who grew up in the same village as me
To those who have different ideas to mine.
Movement-voice piece
Four performers between the ages of 11 and 75 reproduce a collection of recorded words uttered by the people who make up our societies, broaching notions of democracy, authority and justice. By giving a voice to these citizens – law enforcement officials, philosophers, teenagers – Invitation explores our relationship to the group, the common good, and social norms. Claire Dessimoz continues her research, which she began in 2015, into the evocative power of the body associated with speech, where both respectively support, shift and reinvent each other.



Claire Dessimoz (1985) is a versatile artist trained in architecture and contemporary dance. She works in the field of dance as a performer and choreographer, as well as in more performative forms – between theatre, the body, politics, contemporary art and new writing – and her work is concerned mainly with issues of the real, of transformations and of social perceptions. In 2015, she created her own company and presented Du Bist Was Du Holst at the Théâtre de l'Usine and at the Printemps de Sévelin, thus beginning her work of combining the body and the voice. She is associated artist at Arsenic (2017-2019) and is a recipient of the YAA! (Young Associated Artist) programme, developed with Pro Helvetia – the Swiss Arts Council. She lives and works in Lausanne.