✕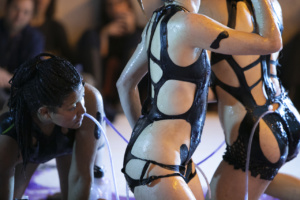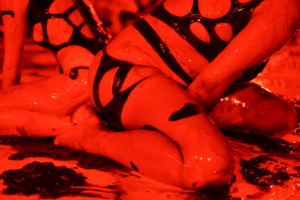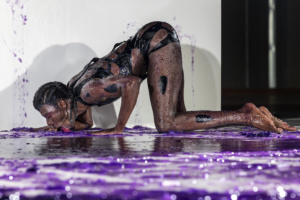 © Dangerous When Wet curated by Mette Woller. Photo: Frida Gregersen
© Dangerous When Wet curated by Mette Woller. Photo: Frida Gregersen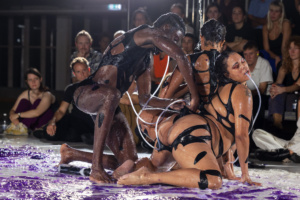 © Dangerous When Wet curated by Mette Woller. Photo: Frida Gregersen
Tamara Alegre, Marga Alfeirão, Élie Autin, Lydia Ö Diakité, Nunu Flashdem, Marie Ursin
FIEBRE
performance
50'

F

Hearing-impaired spectators welcome

A

Little or no text

B

Accessible to persons with reduced mobility
Conception: Tamara Alegre. Chorégraphie: Lydia Ö Diakité, Marie Ursin, Tamara Alegre. Danseuses : Nunu Flashdem, Elie Autin, Marga Alfeirão. Scénographie et assistantxs scénographie: Célia Lutangu, Sel Dir Melaizi, Dylan Huido. Costumes : Giulia Essyad. Musique: HAJ300 – Katja Lindeberg. Regard extérieur: Karina Sarkissova et Giulia Essyad. Remerciements Klara Utke Acs, Benedicte Eggesbø et Ali Abdelkhalek.
FIEBRE was made possible with the support of Ernst Göhner Stiftung, Fluxum Foundation, Nestlé Art Foundation, SIS and the Swiss Arts Council Pro Helvetia. Arsenic – Contemporary Performing Arts Center, Lausanne and DOCH, University of Dance and Circus, Stockholm. Production: FUEGO CONTIGO, Dylan Huido FIEBRE by Tamara Alegre, Lydia Ö Diakité, Nunu Flashdem, Marie Ursin, Élie Autin, Célia Lutangu.
FIEBRE is a choreographic work departing from a fictional landscape exploring a sensual gooey
material.
FIEBRE comes from a desire of creating an intimate, inceptive space where three
dancers progressively explore the possibilities of a viscous and sentimental apparatus.
Moving through trajectories of physical states, erotic togetherness, sexuality, sincereness and
rawness.
FIEBRE intents to imagine other ways of being together for thresholding and transformation.
Eroticism becomes a source of empowerment where desire, disgust and alienation are free to
coexist and feed each other.
FIEBRE, is build on cooperation and care, the work relies essentially on the group. Re-framing the
inherited hierarchies of the different parts of labor in such a work and their respective visibilities
aiming to shake up structural ways of putting cheer to the singular author. The piece won the
Young Choreographers' Award at Impulstanz festival in 2021.
Tamara Alegre works with dance and choreography. Born in Gran Canaria, she/they studied European Business and Psychology and worked as an underground music curator, dj and tour manager until 2016.
In 2018, she obtained an MA in Choreography at DOCH, Stockholm and premiered FIEBRE, co-signed since 2019, with Lydia Ö Diakité, Marie Ursin, Nunu Flashdem and Célia Lutangu. The work has been presented in several venues in Europe and won the Young Choreographer's Award in 2021.
Their research revolves around sensual embodiments, fictions on sexuality/sexual organs and liminal physical states as choreographic tools. Her works are embodied and charged with resistance, intensity and the pleasure of dancing together.
Tamara has a growing passion for Dancehall and questions how to position themselves as a white person having access to black culture. As well as how to navigate between their work and Dancehall.
She is currently a resident artist at Arsenic, Lausanne, where they have recently premiered NX FUIMO together with Elie Autin, Marga Alfeirão, Malik Nashad Sharpe and Cuba.
The combination of working as a dancer, making work, hosting workshops and being involved in collaborative practices is essential for her/them.