✕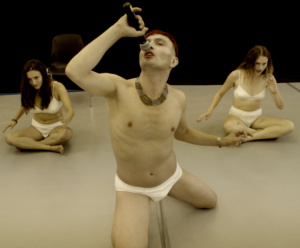 Ivo Dimchev (BG)
Sculptures
80'

G

Hearing loops

E

Partially-sighted spectators welcome

A

Little or no text
Texte et musique: Ivo Dimchev. Production musicale: Georgy Linev, Ivo Dimchev. Chorégraphie: Ivo Dimchev. Avec: Ivo Dimchev, Jaskaran Singh Anand, Jordan des Champs, Helena Araujo, Lauren Bakst. Piano: Dimitar Gorchakov. Violoncelle: Justin Kantor.
Site web de la compagnie
A concert with unpretentious choreography
I'm bored of singing behind a microphone, yet I like it, I love the restriction of it … I like the oppression of it, but it's time to revisit the Madonna format. She failed at it … I saw it in Madison Square Garden … she overloaded it. We'll do less: quieter, more kind to the eyes … more loving.
Musical creation is omnipresent in the work of Ivo Dimchev. As a singer, he moves fluidly from one state to another, from rock star to prima donna. With a sublime operatic voice and intimate and engaged texts, his concerts move thanks to their delicate and sincere quality.



Ivo Dimchev (1976) is a choreographer and performer from Bulgaria. His work is an extreme and colorful mixture of performance art, dance, theater, music, drawings and photography. Ivo Dimchev is the author of more than 30 performances. He has received numerous international awards for dance and theater and has presented his work all over Europe, South and North America. In 2009, after doing his master studies on performing arts at DasArts Academy, Amsterdam, Ivo Dimchev moved to Brussels where he opened a performance space, Volksroom, which weekly presents international young artists. In 2014, he opened his new place MOZEI in Sofia Bulgaria, an independent space focused on contemporary art and music. Ivo Dimchev is an Artist in Residence in Kaaitheater, Brussels since 2013 and for 4 years.