✕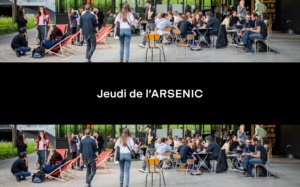 Paris le 11 juin 2020. Yves-Noël Genod, le Carreau du Temple.
YVES-NOËL GENOD (FR), DJ DISSENT DAWN (DANSE NOIRE)
Jeudi de l'Arsenic
Performance/Theater/Music
Dès 17h

C

Young audience welcome (8+)

A

Little or no text
Arsenic Thursdays opening!
This summer, the Arsenic offers a diverse artistic program through its new format: Arsenic Thursdays. Every Thursday, artists, performers, dancers, comedians and djs take over the Arsenic café for an evening of music and performance starting at 5:00 pm. During the evening, the café offers its usual drink menu and several small meals.
Actor, dancer and director Yves-Noël Genod, currently in residence at the Arsenic, will present a performance for this first edition, accompanied by a dj set by Dissent Dawn, member of the Swiss label Danse Noire.
Yves-Noël Genod (FR)
Performance
8:30 pm
Dissent Dawn (Danse Noire)
dj set
From 5:00 pm
Soundcloud