✕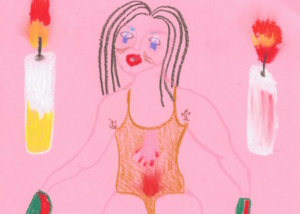 LÉA MEIER (CH)
Ma maison est une maison sale
40'

F

Hearing-impaired spectators welcome
Une performance de Léa Meier. Avec: Tatiana Baumgartner et Léa Meier. Lumières: Vicky Althaus. Regard extérieur: Margaux Lang, Louis Bonard, Mazyar Zarandar. Musique: Simon Acevedo, Serge Teuscher. Soutien: Canton de Vaud, Fondation Nestlé pour l'Art.
Site web de la compagnie
Everyone can sit on my knees
Everyone can run through my eyes
Everyone can sleep in my mouth
A performance by the feminist artist Léa Meier, Ma maison est une maison sale is a research into failure, impurity and the refusal to seduce as a motor for emancipation. The performance inhabits the supposed empty spaces of female bodies by considering them as a potential space of movement and attentiveness, the prerequisite for any possibility of echo or circulation.

Léa Meier (1989) is an artist who works with performance, text and fabric, to create warm and emancipatory atmospheres. She explores interior spaces, both domestic and physical. She lives and works in Lausanne.