✕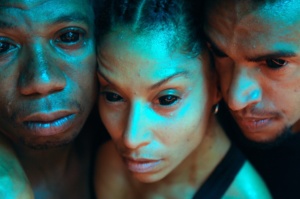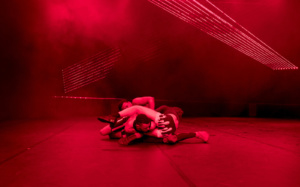 Ligia Lewis (DO/US/DE)
minor matter
60'

F

Hearing-impaired spectators welcome

G

Hearing loops

A

Little or no text
Concept et chorégraphie: Ligia Lewis. Danseurs: Jonathan Gonzalez, Ligia Lewis, Tiran Willemse (Hector Thami Manekehla à l'origine). Dramaturgie musicale: Michel Libera, Ligia Lewis. Design sonore: Jassem Hindi. Technicien son: Neda Sanai. Styling: Alona Rodeh. Lumières: Andreas Harder. Dramaturgie: Ariel Efraim Ashbel. Assistance: Martha Glenn. Tournée et distribution: HAU Hebbel am Ufer, Nicole Schuchardt. Production: Ligia Lewis. Coproduction: HAU Hebbel am Ufer. Financement: Senate Department for Culture and Europe de Berlin, Fonds Darstellende Künste e.V. Soutiens additionnels: résidences à FD-13, PACT Zollverein, collective address.
Site web de la compagnie
Throughout a hyper-generous choreography, three dancers push against the limits of the stage to the point of exhaustion. Constructed on the logic of interdependence, lights, sound, images, architecture and dancers mingle together, giving life to a poetic and vibrant space. The dancer and choreographer Ligia Lewis continues her research into the social conditions that affect the body. With minor matter, the second part of a choreographic triptych begun in 2015, she serves up a powerful manifest.
Ligia Lewis (1983) is a dancer and choreographer. She creates affective choreographies while interrogating the metaphors and social inscriptions of the body. With her first two full-length stage works, the solo Sorrow Swag (2015) and the trio minor matter (2016), she aroused great attention on an international level. Her work has been shown at various venues and festivals, such as Abrons Art Center/American Realness (New York City), Flax/Fahrenheit (Los Angeles), Palais de Tokyo (Paris), or TATE Modern (London). Lewis was awarded the Prix Jardin d'Europe for her work Sorrow Swag. And she recently received the Bessie Award for Outstanding Production 2017 for minor matter. She is based in Berlin and New York.