✕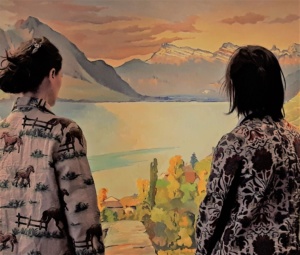 JOËLLE FONTANNAZ & SÉBASTIEN GROSSET & CAMILLE MERMET (CH)
Paysages impossibles
65'

E

Partially-sighted spectators welcome

D

2018-12-02 17:00
Texte: Sébastien Grosset. Jeu: Joëlle Fontannaz, Camille Mermet. Conception: Joëlle Fontannaz, Sébastien Grosset, Camille Mermet. Son: Raphael Raccuia. Production et regard extérieur: Maylène Mathée. Conseiller lumière: Gaël Chapuis. Production: Cie Ostinato. Coproduction: Arsenic – Centre d'art scénique contemporain, Centre de culture ABC, La Chaux-de-Fonds. Soutien (en cours) : Ville de Lausanne, Fondation Nestlé pour l'Art, SIS, Loterie Romande, Fondation Ernst Göhner.
Remerciements: Christian Geffroy Schlittler, Edouard Fontannaz, Vincent Fontannaz, Jean-Daniel Piguet et le Café Romand de Lausanne.
Paysages impossibles is based on a simple idea: conjuring imaginary spaces on an empty stage simply through the power of description. On either side of a blank stage, two actresses perform a text like a musical piece, interweaving descriptions of real places with personal sensations. While the performers grapple with a particularly demanding textual score, their interwoven speeches sometimes complete and sometimes contradict each other, in such a way that each audience member mentally constructs imaginary spaces that no scenography will ever be able to realise.