✕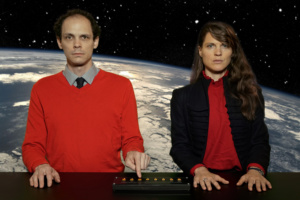 © Alexandre Morel et Jeanne Quattropani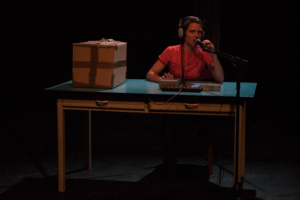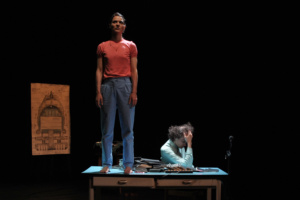 JOËL MAILLARD (CH)
Quitter la Terre
Texte et mise en scène: Joël Maillard. Conception et jeu: Joëlle Fontannaz et Joël Maillard. Avis sur tout: Tiphanie Bovay-Klameth. Création lumière, direction technique: Dominique Dardant. Régie lumière: Dominique Dardant, Matthieu Lecompte ou François Béraud. Maquettes et dessins: Christian Bovey. Musique, instrument et mode d'emploi: Louis Jucker. Synthèse 12-bits: Skander Mensi (arc-en-ciel électronique). Son: Jérémie Conne. Création vidéo: Daniel Cousido. Outil vidéo: Michaël Egger. Régie son et vidéo: Jérémie Conne, Cédric Simon ou Clive Jenkins. Conseils costumes: Tania d'Ambrogio. Construction: Yves Besson. Photographies: Alexandre Morel et Jeanne Quattropani. Production, administration: Jeanne Quattropani, Tutu Production - Véronique Maréchal. Diffusion: Infilignes - Delphine Prouteau. Coproduction: Arsenic, Centre d'art scénique contemporain, Lausanne
Fédération d'Associations de Théâtre Populaire (FATP). Soutien: Ville de Lausanne, Canton de Vaud, Loterie Romande, Corodis, Pour-cent culturel Migros, Pro Helvetia, Ernst Goehner Stiftung, Fondation Suisse des Artistes Interprètes, Fondation Jan Michalski, Fonds d'encouragement à l'emploi des intermittents genevois (FEEIG).
A couple of lecturers sit behind a table. On the table there is a cardboard box. The box contains documents concerning a "new beginning". Extrapolating their content, letting themselves be gripped by fiction, the duo sets off on the exposé of an ambitious project that will save humanity and biodiversity, by sending of thousands of our peers into space. What does the space station look like? How is life organised in this place with zero private space, where notebooks and pencils are the only objects available? Quitter la Terre is both a quirky study in futurology and an examination of our suspended world, detaching us from reality in order to better anchor us in it. Using a reflexive approach, it reminds us of the challenges that we need to take up, and of the cohabitation which any sustainable future demands, with a serious but never heavy-handed dose of humour.