✕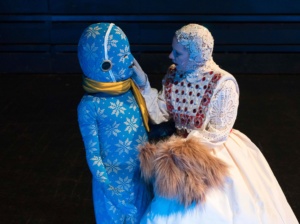 Jonathan Capdevielle (FR)
Rémi
Theatre | all audiences (from 8 years old)
90'

G

Hearing loops

E

Partially-sighted spectators welcome

C

Young audience welcome (8+)

D

2020-02-09 16:00
Conception et mise en scène: Jonathan Capdevielle. Adaptation: Jonathan Capdevielle, en collaboration avec Jonathan Drillet. Interprétation: Dimitri Doré, Jonathan Drillet, Michèle Gurtner, Babacar M'Baye Fall. Assistante à la mise en scène: Colyne Morange. Conception et réalisation des masques: Étienne Bideau-Rey. Costumes: Colombe Lauriot Prévost. Assistante Costumes: Lucie Charrier. Lumières: Yves Godin. Musique originale: Arthur Bartlett Gillette. Création son: Vanessa Court. Régie générale: Jérôme Masson. Production, diffusion, administration: Fabrik Cassiopée – Manon Crochemore, Manon Joly et Isabelle Morel. Production déléguée: Association Poppydog. Coproduction: Le Quai – Centre dramatique national, Angers Pays de la Loire, Nanterre-Amandiers – Centre dramatique national, France, Festival d'Automne, Paris, Théâtre Garonne – Scène européenne, Toulouse, Théâtre Saint-Gervais, Genève, CDN Orléans, Centre-Val de Loire, Arsenic – Centre d'art scénique contemporain, Lausanne, Tandem – Scène nationale de Douai, TNG – Centre dramatique national de Lyon, Le Parvis – Scène nationale, Tarbes, La Rose des vents – Scène nationale, Lille Métropole Villeneuve d'Asq, Le Maillon, Théâtre de Strasbourg – Scène européenne. Avec le soutien du CND – Centre national de la danse – Pantin, France.
Site de l'artiste
For his first creation for all audiences, the virtuosic Jonathan Capdevielle has seized upon Hector Malot's Sans famille, a vibrant classic of children's literature, and adapted it into two episodes: a show and an audio fiction to listen to back home. A master in the art of merging choreography, sound and music creation and acting, Capdevielle creates a fantastic universe that makes hearts skip a beat. Here, the actors transform themselves into living dolls whose masks and costumes confer an unreal atmosphere on this initiatory journey. Bodies move as if possessed, exalted by a powerful and immersive sound creation that takes children and adults through a maze of wonder.
Trained at the École Supérieure Nationale des Arts de la Marionnette, Jonathan Capdevielle has performed in several productions (by Lotfi Achour, Yves-Noël Genod…) and has collaborated with Gisèle Vienne since his debut. He has been performing in almost all his plays. He began to develop his own work in 2009, which mixes autofiction, narrative and intimate stories, relying on imitation and references from popular culture such as Jerk and Adishatz, both presented at Arsenic. His last two plays are adaptations: in 2017, he created A nous deux maintenant, adapted from the novel Un Crime by Georges Bernanos, and in 2019 Rémi, based on Hector Malot's Sans famille.