✕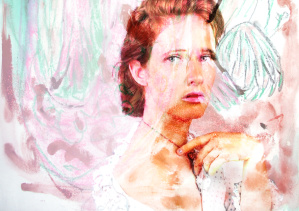 Renée Van Trier (NL)
All Can Be Softer
30'

G

Hearing loops

A

Little or no text
By and with : Renée van Trier. Coproduction : Arsenic – Centre d'art scénique contemporain.
Nobody remembers when it happened or even who said it, but one day, Renée Van Trier heard herself compared to a Tuareg-Punk. An absurd denomination that suits her like a glove, reflecting the singular quality of her artistic output. She amuses herself by impertinently exploring characters with contrasting physiques and vocal tones, oscillating between personal mythology and contemporary figures from popular culture. As a sound performance, All Can Be Softer is deafening, shameless, often excessive and at times repulsive, and should be approached with caution. Under a falsely naïve appearance, the artist distils a skillful mixture of creativity and madness. This intrepid adventurer is not afraid to let silence, insidious and frightening as it may be, into her superlative world. Renée Van Trier whispers : We need softness — now !
Renée van Trier (born in 1983) is a musician, performer and painter. After a BA in Fine Arts at St Joost in Breda, she completed an MA in Fine Arts at the Sandberg Institute in Amsterdam, followed by a residency program at the Otis College of Art and Design (Los Angeles) and at the CEAC Center (Xiamen, China). She has exhibited in the Centre Pompidou (Paris), the Stedelijk Museum s'-HertogenBosch and the Showroom MAMA (Rotterdam). She has performed at the Incubate Festival (Tilburg), the Paradiso (Amsterdam), the Grimm Museum (Berlin), WORM (Rotterdam), and the festival Les Urbaines (Lausanne, Switzerland). As a musician, she was part of the well-known duo Milligram Retreat. Alongside these activities, she composes musical pieces for theatre and dance shows.