✕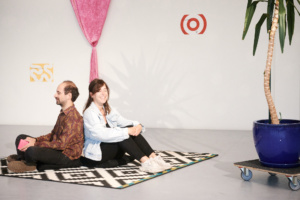 Delphine Abrecht (CH)
S'entretenir
performance immersive
environ 2h

B

Accessible to persons with reduced mobility
Conception: Delphine Abrecht. Collaborateurixes artistiques: Arthur Auderset, Alain Borek, Tiphanie Bovay-Klameth, Odile Cantero, Marion Chabloz, évo mine lambillon, Claudio Melis, Flavia Papadaniel, Aurélien Patouillard, Sylvestre Pidoux, Jean-Daniel Piguet, Agathe Hazard Raboud, Charlotte Terrapon, Loïc Valley. Aide à la production / administration: Marine Magnin. Photographie: Chloé Cohen. Graphisme: Sabrina Vega (aka Fainek).
Production: cie DAB. Coproduction: Arsenic – Centre d'art scénique contemporain, Lausanne. Résidence: Lieu Commun, Lausanne. Soutiens: Canton de Vaud, Loterie romande Vaud, Pour-cent culturel Migros, Fondation Ernst Göhner.
Remerciements (liste en cours): Maëlle Gross, Anne Ségallou, Lise Michel, David Javet, Camille Luscher, Guillaume Ceppi, Adrien, Alix et Yann Abrecht, Raphaële Beck, Isabelle Guisan, Judith Goudal, Adrien Knecht, Philippe Graf, Alicia Packer, Gabriel Arellano, Camille DL, Rémi Dufay, Emile et Justine, la team de Lieu commun.
How can we experience encounters beyond the usual codes and small talk?
With S'entretenir, researcher and dramaturg Delphine Abrecht proposes a series of encounters to be experienced in pairs*, somewhere between sociological experiment and role play, in a benevolent and friendly setting.
Out of a selection of fifteen or so protocols, each pair will choose one that will invite them to experience the situation together, but also independently. For the duration of an hour, each duo will be spread out in and around the Arsenic, where they will be able to follow the procedure, ask themselves questions and carry out the missions presented.
This experience-based piece thus raises the question of what transforms a moment of encounter, at its most basic level, into a work of art.
S'entretenir thus joyfully defies the usual theatrical codes, with an audience made both actor and spectator of its own encounter.
*with a person one doesn't know, or hardly knows
Le bar n'est pas ouvert les mardis 2 et 9 mai.