✕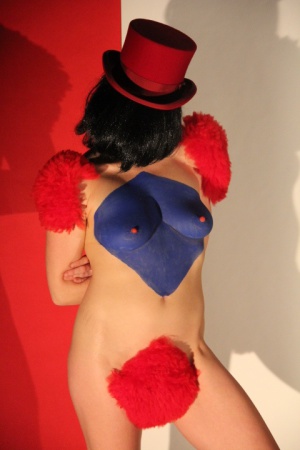 AUDREY CAVELIUS (CH)
Séries
Work in progress - Free admission
Concept, writing, staging : Audrey Cavelius. Musicale Composition : Christophe Gonet. With : Krassen Krastev, Dominique Godderis, Teresa Vitucci. Light Design, Création, technic : Joana Oliveira. Dressmaker : Cécile Delanöe. Camera and photography : Julie Masson. Dramaturgy : Florence Grivel. Stage design : Céline Masson. Video Programmer : Jérôme Vernet. Administration : David Busset. Production : NNC – NoNameCompany. Co-Production : Arsenic – Centre d'art scénique contemporain, Lausanne. Supported by : Canton de Vaud, Ville de Lausanne, Fondation Nestlé pour l'art, Loterie Romande, Pour-cent culturel Migros, Société Suisse des Auteurs (SSA).
Séries is an interdisciplinary project where theatre, movement and fine arts are summoned for an investigation into bodily identity. Through real and virtual identities, transient and evolving avatars, Audrey Cavelius gives life to hybrid monstrous figures which questions the notions of nature and culture, fiction and reality. The finished show Séries will be presented in May 2018 at the Arsenic.
Audrey Cavelius is a director, actress and writer. After studying literature, linguistics and theatre, she worked for Krystian Lupa, Oscar Gómez Mata, Mark Coniglio, Dorian Rossel and Alexandre Doublet, among others. In 2013, after receiving the Premio prize (an incentive award for Swiss emerging performing arts companies), she founded the NoNameCompany with Christophe Gonet. Together, they create hybrid and transdisciplinary forms, located at the crossroads between theatre, music, visual and fine arts. Their shows are full of unbridled poetry, made up of universes containing fictional languages and multiple modes of expression, venturing into landscapes that are both personal and universal, while managing to be real, fictional, phantasmagorical and surreal all at once.