✕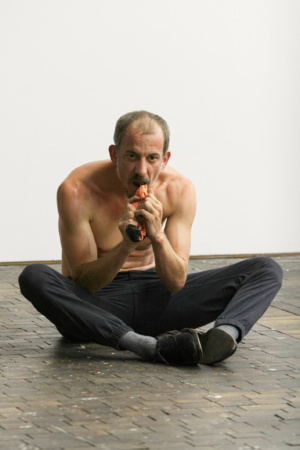 Gregory Stauffer (CH)
Sitting
Performance/Dance
40'

F

Hearing-impaired spectators welcome

C

Young audience welcome (8+)

B

Accessible to persons with reduced mobility
Choreography and acting: Gregory Stauffer. External eye and presence: Sonja Jokiniemi. Administration: ARhythmia, Marianne Caplan, Artemisia Romano. Production: Cie le Cabinet des Curiosités. Coproduction: Arsenic - Centre d'art scénique contemporain, Lausanne. Supports: Ernst Göhner Foundation, Marcel Regamey Foundation, SIS, Société suisse des auteurs SSA - Bourse chorégraphique, City of Geneva. For the process so far: Thanks to Jérôme for having transformed me into a man-fountain, to Nefeli for having taught me the yogic foundations, to Aaike for all our exchanges around the stones, to Ernesto for his collection of objects and sculptures, to Patrick for his advice, to Mathilde who inspires me and Beth who supports me, to Olivier for linking the artistic mediums, to the team of Karte Noire in Bienne. Thanks to the places of research and creation: Cima Città Dangio, Espace - Raum für Bewegung Biel, to the studios of the ADC and Arsenic, to all the lakes and rivers visited.
"On the ground sit the children, the demonstrators, the strikers, the esoteric, the backpackers, the prisoners of war, the defeated, the meditators, the lovers, the wounded, the beggars, the drunkards, the exhausted, the root beings." Sitting explores the sitting position, and catalogues this situation: seat, point, place, anchorage, and the concentric circles that emanate from it. This point that Sitting sets in motion – an ambivalent moment that complements the line – is just as equivocal as in the solo Walking (2014), which celebrated itinerancy, wandering and pilgrimage. Here, Gregory Stauffer thinks about the relationship to the land, to the ground and its resources. A manifestation of a body resisting the movement of the world, Sitting celebrates the quiet and subterranean power of the earth and those who are connected to it.
Gregory Stauffer (born in 1980) makes work which is deliberately located in a transverse and blurred territory between dance and performance, with touches of video here and there. Since 2006, he has been developing site-specific choreographic work, videos and performances. His shows are linked to ecosophical thought. They question the contexts within which they are created, playing with relationships of perspective and measure between human and environment, and the fictions they generate individually and collectively. His multidisciplinary practice favours collaborative work. He lives and works in Geneva.