✕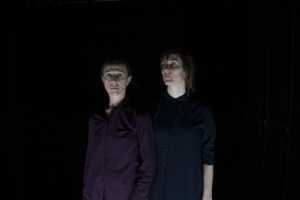 TABEA MARTIN & SIMONA BERTOZZI (CH)
This Is My Last Dance
Dans le cadre des Swiss Dance Days*
50'

F

Hearing-impaired spectators welcome

G

Hearing loops

A

Little or no text
Concept: Tabea Martin. Danse, chorégraphie: Tabea Martin, Simona Bertozzi. Dramaturgie: Irina Müller, Moos van den Broek. Scénographie: Veronika Mutalova. Costumes: Mirjam Egli, Anna Schnyder. Création lumière: Simon Lichtenberger. Conseils musicaux: Donath Weyeneth. Œil extérieur: Sebastian Nübling. Assistante chorégraphique: Tamara Gvozdenovic. Responsable de production: Larissa Bizer. Coproduction: Kaserne Bâle. Soutien: Commission Danse & Théâtre Cantons de Bâle-Ville et Bâle-Campagne, Prairie-Pour-cent culturel Migros, Stanley Thomas Johson Stiftung, Fondation Nestlé pour l'Art, Ass Cult. Nexus und MiBACT (Ministero dei beni e delle attività culturali e del turismo). Une coproduction dans le cadre du Fonds des programmateurs de Reso – Réseau Danse Suisse. Soutenu par Pro Helvetia, Fondation suisse pour la culture.
In the twilight hours of their last dance two women share an empty stage. Simultaneously partners and accomplices, rivals and mirrors to the other's fear, they deliberate over existence and our ephemeral condition. One single obsession possesses them: how to go on living and stay hopeful when faced with the end that awaits us? From this painful question Tabea Martin and Simona Bertozzi have crafted a sombre and sensual duet out of fragments and silence. Inspired by Samuel Beckett's one-act play Endgame, they created a physical narrative in which humour is the antidote to fear and decline.
Tabea Martin is a dancer and choreographer based in Basel and received her training in Amsterdam at the School of Fine Arts, the SNDO and the Rotterdamse Dansacademie. Her artistic approach places the human above any formal aesthetic consideration and regards dance as a place of possibility or a tool that may be used to interpret the world, better understand the environment that surrounds us and push our mental boundaries. She was awarded the Dance Prize (2016) from the Canton of Basel and also works for different theatres and operas. Her piece for young audiences Pink for Girls and Blue for Boys (2016) is currently on tour in Europe.
*Tarifs Swiss Dance Days:
CHF 15.- plein tarif
CHF 12.- tarif réduit
(hors abonnement Arsenic)