✕
© Onassis Stegi in Athens - Pinelopi Gerasimou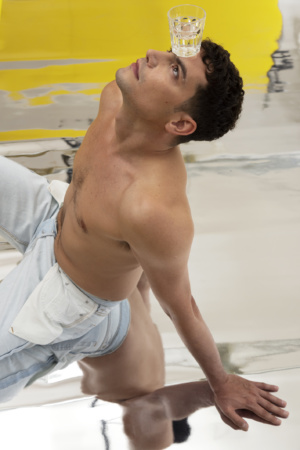 Alexandra Bachzetsis (CH)
2020: Obscene
performance
1h25 - courts passages en anglais

G

Hearing loops

B

Accessible to persons with reduced mobility
Conception et chorégraphie: Alexandra Bachzetsis. Collaboration, conception et scénographie: Sotiris Vasiliou. Collaboration, conception et dramaturgie: Dorota Sajewska. Création et performance: Alexandra Bachzetsis, Owen Ridley-DeMonick, Sotiris Vasiliou, Tamar Kisch. Création sonore: Tobias Koch. Création costume: Christian Hersche, Ulla Ludwig, Laurent Hermann Progin. Communication visuelle: Julia Born. Photographie: Melanie Hofmann. Maquillage et coiffure: Delia Sciullo. Direction technique et création lumière: Patrik Rimann. Équipe technique: Alban Schelbert, Jon Brunke, Phil Hills, Valentin Biller. Production: Association All Exclusive, Franziska Schmidt. Assistante production: Juliana Simonetti.
Soutiens: The cooperative support agreement between the City of Zurich, the Canton of Zurich, and Pro Helvetia—Swiss Arts Council, Ernst Göhner Stiftung, Ernst und Olga Gubler-Hablützel Stiftung, Jacqueline Spengler Stiftung. Coproductions: Kunsthaus Zürich, Kaserne Basel, Dampfzentrale Bern, Arsenic – Centre d'art scénique contemporain Lausanne, ADN Neuchâtel, Tanzquartier Wien, Gessnerallee Zürich.
Cette performance est coproduite dans le cadre du Programme Fund of Reso—Dance Network Switzerland.
By using the term "obscene" as the title of her play, Alexandra Bachzetsis plays on the ambiguity between "scène" (the stage) and "obscene", the contamination between performance and staging, and its element of obscenity as an efficient manipulation machine. Here, as you can see, obscenity goes beyond the purely sexual.
This is how communication through excess comes into play. In a culture subject to mediatisation, excessive communication becomes an instrument of (obscene) seduction where the virtual becomes real.
The performance addresses on the one hand the possibilities of the theatre with regard to seduction, attraction and games of sexual identity, and on the other hand the body as a medium of this representation, a place of alienation as an object of consumption offered up to the audience's gaze.
With her three performers, the visual, choreographic and performance artist Alexandra Bachzetsis explores the contradictions of the body, between intuition and gesture, light and shadow, score and script, norm and form – all through the art of performance, through borderline, physical and emotional experiences directed at the spectators. In all of this, who is obscene?