✕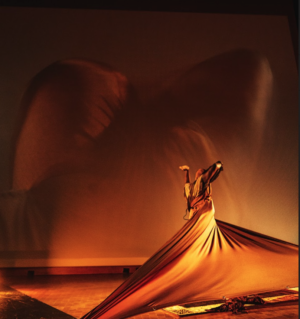 jaamil olawale kosoko (US)
Black Body Amnesia
Performance
1h05 - Traduction en français simultanée au casque

G

Hearing loops

E

Partially-sighted spectators welcome

B

Accessible to persons with reduced mobility
Concept, direction, création, performeur: jaamil olawale kosoko. Performeur Doula : Nile Harris, jaamil olawale kosoko. Musique: Queen Drea. Musique live: Queen Drea avec compositions additionnelles d'Everett Asis Saunders. Création lumière: Serena Wong. Régie lumière: LD Armon. Costumes: SaVonne. Traduction française: Chienne de garde. Vidéo: Ima Iduozee et Jasmine Murrell. Montage vidéo: Alexis McCrimmon et George MacLeod avec le soutien du studio film/vidéo du Wexner Center for the Arts. Dramaturge, éditrice du livre Black Body Amnesia: Dahlia Li. Production: Shana Crawford. Production artistique: Michelle Daly. Soutiens: EMPAC / Experimental Media et Performing Arts Center au Rensselaer Polytechnic Institute, Troy, NY; the Wexner Center for the Arts; Movement Research Artist-in-Residence Program; Dance/NYC Advancement Fund; Media Arts Assistance Fund (MAAF), the Pew Fellowship in the Arts, Hinterlands Residency.
With Black Body Amnesia, jaamil olawale kosoko anchors their performative research in ritual practice, poetics, black critical studies, and queer theories of the body in order to conjure and elaborate modes of freedom, healing, and care.
kosoko examines the shifting, illegible, and elusive realities of persons from the Black North American diaspora as they negotiate their psychological and spiritual symbolism induced by reductive representations of their bodies. They develop a theory of complexity – which they define as the study of survival strategies in complex environments – as a performance device.
The artist explores how minority communities affirm and bear witness to their existence through collective action and protest, and how they subsequently archive these emancipatory narratives to subvert a culture fraught with systemic oppression, loss and erasure.
jaamil olawale kosoko is a Nigerian American performance artist, author, and curator originally from Detroit, MI. Their creative practice draws from Black study and queer theories of the body, weaving together visual performance, lecture, ritual, and spiritual practice. Recent awards include: 2022 MacDowell Fellowship, 2020 Pew Fellowship, 2020-21 Resident Artist at the Wexner Center for the Arts, 2019 NYSCA/NYFA Artist Fellowship in Choreography, 2019 NPN Development Fund Award, 2019-21 Movement Research Artist in Residence, 2018-20 Live Feed Artist at New York Live Arts, 2017-19 Princeton Arts Fellow, 2019 Red Bull Writing Fellow, 2017 MAP Fund recipient, and a 2017 Cave Canem Poetry Fellowship. Their works have toured internationally to South Africa, Europe, Canada, and throughout the US, appearing in festivals and venues such as The Centre for the Less Good Idea (Johannesburg), Fusebox Festival (Austin), PICA | Portland Institute for Contemporary Art, Tanz im August (Berlin), Moving in November (Finland), Within Practice (Sweden),TakeMeSomewhere (UK), Brighton Festival (UK), Oslo Teaterfestival (Norway), and Zürich MOVES! (Switzerland) among others. They are the author of two chapbooks: Animal in Cyberspace and Notes on An Urban Killfloor., and the book Black Body Amnesia: Poems and Other Speech Acts. Their poems and essays have been included in The American Poetry Review, The Dunes Review, The Broad Street Review, among others. Season 1 of their interview-based podcast, American Chameleon can be found on all podcast platforms. In Fall 2020, they were the Alma Hawkins Visiting Chair in the World Arts and Cultures Department at UCLA and they are currently a lecturer in the arts at Princeton University. jaamil_means_beauty on IG