✕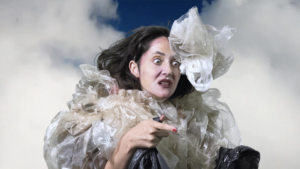 ©Mayara Yamada, Ursulina de Lombardia
©Mayara Yamada, Ursulina de Lombardia
Mayara Yamada, Ursulina de Lombardia (CH), Léa Katharina Meier (CH)
CINÉMA ARSENIC 3
vidéo-performances
F

Hearing-impaired spectators welcome

B

Accessible to persons with reduced mobility
Mayara Yamada & Ursulina de Lombardia - I came all the way here now you have to dance

Réalisation: Ursulina de Lombardia. Interprétation: Marara Kelly. Scénario: Mayara Yamada, Ursulina de Lombardia. Musique originale: Ágatha Barbosa (Cigarra). Photographie: VIDAFODONA, Alessandra Domingues (création lumière). Montage: Lisa Luna Lombardo. Production, comptabilité: Garance Bonard, Elsa Delacretaz.

Production : Vision Nocturne / Night Vision, Casa Mawu. Coproduction : Centre d'Art Contemporain, Genève, Arsenic - Centre d'art scénique contemporain, Lausanne. Soutiens: Fonds cantonal d'art contemporain and L'Abri - Genève.



Léa Katharina Meier – Miasma Ficçao

Un film de Léa Katharina Meier. Collaboration artistique: Lina Kaplan, Luana Fonseca Damásio, Lucas Canavarro et Natália Araújo. Direction de la photographie, son et montage: Lucas Canavarro et Lina Kaplan. Corrections couleur et finalisation: Lina Kaplan. Assistante de recherche, de production et des costumes: Luana Fonseca Damásio. Assistante production et plateau: Natália Araújo. Conception sonore et bande-son: Luisa Lemgruber. Mixage et masterisation son: Caio Zan. Costumes: Liza Machado et Léa Katharina Meier. Accompagnement curatorial: Icaro Ferraz Vidal Junior. Coach voix et prononciation: Mayara Yamada. Conception des crédits: Lucas Canavarro. Figuration : Yohanne Morena, Rafael Ferreira de A.Silva, Gabriela Lopes, Yasmin Lamblet, Antônio Batista da Costa, Luana Fonseca Damásio, Natália Araújo. Remerciements : Fundação Dom João VI, Prefeitura de Nova Friburgo - Secretaria dos serviços públicos, Casa Suíça, Amanda e Douglas Moraes, Noémi Michel, Izabel Barros, Matthieu Jaccard, Aïsha Gebhard, Max Hauri, Cecilia Moya Rivera, Cecilia Mathys, Evo Jovičić, Margaux Lang, Valentina D'Avenia, Lionel Rupp, Caio Riscado, Tatiana Baumgartner, touxtes les habitantexs de Nova Friburgo et les descendantexs des colons suisses qui l'ont aidée dans ses recherches et qui ont pris le temps d'échanger avec elle.

Ce film a été réalisé grâce au soutien de: Pro Helvetia América do Sul, Fonds Culturel, Fondation Eva et Curt Burgauer, Service des affaires culturelles de l'Etat de Vaud. Production: Association LES MAUVAIS JOURS FINIRONT!. Coproduction: Arsenic - Centre d'art scénique contemporain, Lausanne.
Mayara Yamada & Ursulina de Lombardia – I came all the way here now you have to dance, 37 min
This is the chronicle of the creation of the latest show by Marara Kelly, absolute star of the multiverse, who appeared for the first time in Europe in the waters of Lake Geneva to give her first concert among humans. Somewhere between realism, science fiction and magic, this documentary is a magnifying glass which, instead of clarifying things, blurs the boundaries and allows us to penetrate even further into the blissful universe of this ill-fated pop star.
Léa Katharina Meier – Miasma Ficçao, 25min 37sec
Since 2018, Léa Katharina Meier has been carrying out documentary research in Switzerland and Brazil into constructed notions of cleanliness specific to Swiss identity, creating links with its colonial past and whiteness.
Through interviews with descendants of Swiss colonists, she investigates a territory symbolic of Swiss colonisation in Brazil: Nova Friburgo, as it was named by settlers from Fribourg in the 19th century.
Drawing on this research, Léa Katharina Meier has created an absurd, humorous and caricatural tale to depict the delusion of colonialism and whiteness.
Once upon a time in Nova Friburgo, Brazil, a Cheese wanted to know who had brought the Matterhorn there. In his quest, he comes face to face with the living statue of William Tell. Will he find the answer to his question? Only the Miasma, who is telling you this story, holds the key.
Born in Belém do Pará, in the Brazilian Amazon, Mayara Yamada is an artist, performer and DJ living in Switzerland.
Her research is mainly focused on performance art, but also engages with other media such as photography, audiovisuals, theater and music. The main themes at the core of her work deal with subjects such as autobiography and the study of the body, landscape and memory, with an emphasis on the investigation of cultural codes and symbols of the Brazilian Amazon. As an artist in transit since 2010, Mayara investigates how to displace elements of her original culture into other contexts using tools of translation and transposition in a practice she defines as trans-situ. With a lively research interest in the history of performance and the many ways in which this language can be used to develop her work, she is interested in questioning notions of recording, archiving, reenactment, presence, theatricality and performativity. Writing is also an important element in her creations, appearing in various formats such as dramaturgy, autofiction, storytelling, poetry, autobiographical narrative, stand-up comedy, letter, manifesto and so on. Currently, with the Marara Kelly Art Show series and its deployments, she crosses her stage-performative practice with her sound practice as a DJ, through a research that crosses the world of pop and kitsch, the figure of the pop star and the sacred and profane elements in celebratory events in Brazil: always questioning the identity, landscape and contexts in which music is produced and diffused, particularly in the world of partying and the different nightlife between the continents where she acts.
Ursulina de Lombardia is a multidisciplinary artist born in Italy. Raised in Latin America, where she worked for a long time in cinema, she developed her artistic practice approaching essay as a methodology, blending video and performance, designing and experimenting in between visual arts, deforming and enabling tortuous and intricate connections between the different countries in which she lived. Ursulina's works explore what it means to be a woman in contemporary society, the potential connections between queerness and globalisation, and the distortions of the body afforded by the digital images. By mixing moving images, writing, photography and performance, Ursulina's work seeks to reconstruct her own autobiography through media landscapes, playing with the visual codes of art, mass media and gender, pointing out the artificial nature of contemporary stereotypes.
Léa Katharina Meier is a visual and performance artist. Following in the footsteps of the clowning practice and tradition, which uses laughter and ridicule to question the normative and oppressive gaze we direct at the bodies and world visions around us, Léa Katharina Meier's artistic research is based on a process of self-demolition, feeding on her failures. Believing that these failures open up new possibilities for dissident subjectivities and poetic narratives, she wishes to create a space of resources that welcomes her own vulnerability and monstrosity, while simultaneously developing a filthy, queer sense of humour. She has shown her work in numerous art spaces and theatres in French-speaking Switzerland (Arsenic, Tunnel Tunnel, MCBA, TU-Théâtre de l'Usine) and has completed several residencies in Brazil (Faap and Pivô, São Paulo). In 2021, she received the Audience and Jury Prizes at the Swiss Performance Art Awards for Tous les sexes tombent du ciel. In 2023, she took part in the Swiss Art Awards exhibition and was a resident of the Swiss Institute in Rome. Miasma Ficção is her first short fiction film.