✕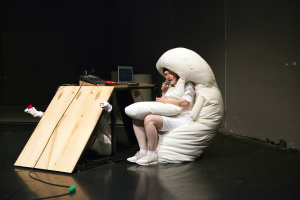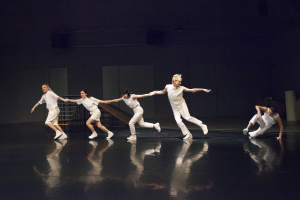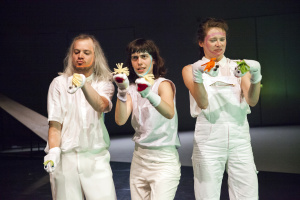 LEA MORO (CH)
Fun!
60'

F

Hearing-impaired spectators welcome

G

Hearing loops

C

Young audience welcome (8+)

A

Little or no text
Choreography, Concept, Performance: Lea Moro. Performance, Co-Choreography: Dani Brown, Micha Goldberg, Andrius Mulokas, Emma Tricard. Sound Design, Music, Performance: Jana Sotzko. Dramaturgy: Maja Zimmermann. Costume, Stage Design: Mascha Mihoa Bischoff. Light Design: Annegret Schalke. Choreographic Assistance: Zelda Wenner. Dramaturgical Advice: Anne-Mareike Hess. Costume, Stage Assistance: Felix Hahn, Rebekka Grimm. Graphic Design: Vincenzo Fagnani. Technical Direction, Lighting: Claire Terrien. Production Switzerland: Rabea Grand. Production Germany: Marie Schmieder, Linda Sepp. Distribution: Key Performance.
"FUN!" is produced by Lea Moro in co-production with Tanz im August / HAU Hebbel am Ufer (Berlin), Tanzhaus Zürich, Südpol Luzern, Kaserne Basel, Dampfzentrale Bern, Arsenic I Centre d'art scénique contemporain Lausanne, in the frame of Programmers' Fund / Reso dance network Switzerland, supported by Pro Helvetia and PACT Zollverein, fabrik Potsdam, Théâtre de Nîmes - Scène conventionnée pour la danse contemporaine, Centre de Développement Chorégraphique Uzès danse. Funded by the Senate Department for Culture and Europe, City of Zurich Kultur, Kanton Zurich – Fachstelle Kultur, Nationales Perfromance Netz in the frame of the Coproduction Fund for Dance, which is funded by the Federal Government Commissioner for Culture and Media, Pro Helvetia – Swiss Arts Council and Fondation Nestlé pour l ´Art. With the support of ÉTAPE DANSE, initiated by the Institut Français Germany / Bureau du Théâtre et de la Danse and fabrik Potsdam, with the help of the Ministry of Culture and Communication / DGCA and the City of Potsdam. With thanks to SOPHIENSÆLE. The performances in Switzerland are funded by Migros-Kulturprozent and Stanley Thomas Johnson Foundation.
Five performers are faced with a playful and ever-changing space. Everything becomes a pretext for play : costumes, set, makeup ; pleasure is everywhere and with everyone. Through its suggestive choreographies, fine wavelets of sound, multicoloured round dances and exhilarating aesthetics, the stage begins to look like a version of the Bauhaus' Triadic Ballet. By creating an artificial universe where choreographic movement becomes the vector for enjoyment, the Zurich-based choreographer Lea Moro explores the mechanisms and contradictions of contemporary entertainment. Delving into the spaces between desire, euphoria, fear and nostalgia, Fun ! embarks dancers and audience members on a fabulous, caustic and exhilarating funfair ride. Superb, and inevitably funny.
Lea Moro (born in 1987) is a Swiss performer and choreographer. She studied at the Scuola Teatro Dimitri (BA in Physical Theatre), the Laban Centre London (Diploma in Dance Studies) and graduated in 2014 from the Inter-University Centre for Dance Berlin (BA Dance, Context, Choreography). With my work, I wish to involve the audience by creating affective situations. Making use of virtuosity, illusion and subtle humour allows for an ambiguity that at times evokes emotions and even pathos. I desire to learn new skills, be curious, obsessive and intuitive. She lives and works in Berlin and Zurich.