✕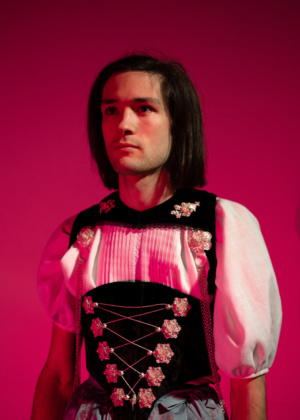 Alice Oechslin, Ulysse Berdat (CH)
Horizon Pluton
théâtre
50'

G

Hearing loops

C

Young audience welcome (8+)

B

Accessible to persons with reduced mobility
Mise en scène, musique et interprétation: Alice Oechslin et Ulysse Berdat. Scénographie: Marlène Charpentié. Lumière: Tiago Branquino. Soutien créatif: Mayara Yamada et Julia Botelho. Regard extérieur: Cindy Coutant et Yan Duyvendak. Administration: Romane Farine.
Coproductions: TU–Théâtre de l'Usine, Genève, L'Arsenic - Centre d'art scénique contemporain. Soutiens: PREMIO - Prix d'encouragement pour les arts de la scène, Ville de Genève, Loterie Romande.
In the middle of a game of hide-and-seek in the fields, Milla and Mado share a kiss. And so begins a love story on the back of a moped, in which their horizon and dreams of escape centre on Pluto: a place of dreams and fantasies where they can be fully themselves. Driven by their desire for emancipation, Milla and Mado decide to be themselves to the fullest, subverting the bleakness of the horizon. Their adventure will take them from the depths of the town's reservoir to the ends of the cornfields.
Drawing on each other's ideas, Alice Oechslin and Ulysse Berdat have created a common performative language made up of bits of string, space travel, songs, videos, customised auto-biographical narratives and country queerness.
In this fresh musical and pastoral tale, Alice Oechslin and Ulysse Berdat mime, play, sing, and transform their fingers into puppets to better share their stories, their anxieties and their utopia. In a nutshell, Horizon Pluton is a playful way of repairing and healing a youth in need of queer countryside stories with which to identify, and of proposing new ones.