✕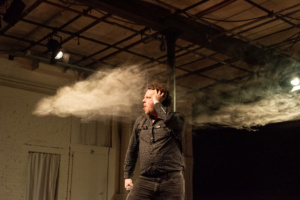 Johannes Dullin (CH)
Johannes Dullin Plays the Devil
Théâtre | En anglais surtitré français
75'

G

Hearing loops

E

Partially-sighted spectators welcome

D

2020-03-01 17:00
Texte / Performance: Johannes Dullin. Dramaturgie: Marius Schaffter. Graphique: Kaspar Kobel. Photos: Marco Frauchiger. Production: Camp Zéro. Direction de la production: Boss & Röhrenbach. Coproduction: Tojo Theater Reitschule, Bern, Arsenic – Centre d'art scénique contemporain, Lausanne. Soutiens: Kultur Stadt, Bern, Amt für Kultur, Kanton Bern, Burgergemeinde, Bern.




An absurd stand-up-performance-play on the art of seduction. In his third solo creation, Johannes Dullin questions the archaic and intercultural figure of the devil, confronting him with his own seductive prowess. The audience quickly falls into a demonic trap: while Dullin claims to speak only of the mythological character, he finally turns out to be an evil manipulator himself…. Dancing on the line between laughter and unease, the piece sets up this discomfort as a possible mental instability of the artist. The artist, who could be a distant relation of the Monty Pythons, combines entertainment, stand-up, powerful artistic metaphors and intense drama. No one will emerge indifferent.
Johannes Dullin was born in 1980 in the Ruhr area and joined the Scuola Teatro Dimitri between 2000 and 2004. He is the co-founder and artistic director of Banality Dreams and Authentic Boys. He studied at the Hochschule der Künste in Bern in Expended Theater for his master's degree. Since 2011 he has been working as an actor in various collaborations with Gregory Stau er, Franz Rogowski, Martin Clausen, Corinne Meier and Friederike Wengenroth. He has created two solo shows: Komm und bring einen Freund mit and The best piece of this season. In December 2019 his first children's play Das Stück mit dem lustigen Namen had its premiere at the Schlachthaus Theater Bern.