✕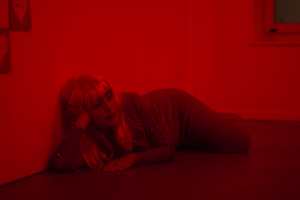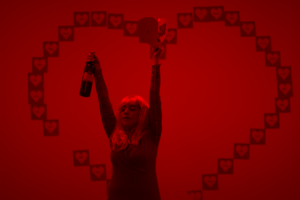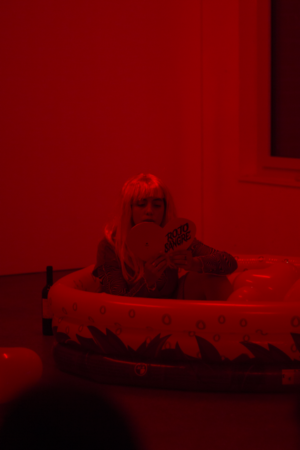 Cecilia Moya Rivera (CL/CH)
La fiesta de la reparación
performance
45'

B

Accessible to persons with reduced mobility
Conception, création, textes et performance: Cecilia Moya Rivera. Coaching théâtral: María Fernanda Ordoñez. Accompagnement voix: Lakshmi Fernández. Création sonore: Esfandiar Aminian. Conseillerxs en écritures: Jonas Van et Mauricio Adasme. Costumes: Daniela Troncoso (mña Chan). Collaboratrice artistique et accompagnement chorégraphie: Valeska Romero Curiqueo. Graphisme de la publication: Cecilia Moya Rivera. Montage et scénographie: Sergio Rojas Chaves. Regards extérieurs: Jonas Van, Trân TRAN, Adina Secretan, María Fernanda Ordoñez. Traduction et relecture anglais: Sebastián Dávila. Traduction en français : Cecilia Moya Rivera. Production et administration: Furia. Remerciements: Hugo Mallea Rosales, Les Compagnies Vaudoises, Julie Marmet, Adina Secretan, Chloé Démétriadès, Myriam Ziehli, Max Léo Hauri et Léa Katharina Meier.
In a monologue featuring poems and kitsch music, Cecilia Moya Rivera explores the following questions: what is this wound that hurts? Who are the real broken hearts?
Against a red backdrop – a colour that is characteristic of her practice, a symbol of blood, woundedness and rage – the writer and performer raises a toast to her companions as a kind of healing protocol. At the same time, Cecilia Moya Rivera uses language and performance to explore her colonial past-present and generational trauma, employing language as a tool for decolonisation. During the performance, she dedicates poems of protest to colonisers in an attempt to soothe and repair the wounded hearts of her peers.
La fiesta de la reparación offers participants a space to talk about something no one wants to talk about: reparations.
Reparation isn't healing
Téjeme el dolor
burn my veins with real love
repair the blood
with returning in time
did you notice the smell of our blood?
it used to smell of strawberries, ahora huele a podrido
burn my veins
repair my heart
repárame el corazón
give me back the words
and all my past, my love,
All my past, my love, please
that is too much to ask?
all, all the past my love
reparation isn't healing, as you make me believe
burn my veins instead!
cas reparation has never been synonymous with healing
poem by Cecilia Moya Rivera (february 2023)

Cecilia Moya Rivera is a South American artist, writer and performer based in Switzerland.
With a background in graphic design, she builds her artistc practice in relation to language and their colonial past- present. For some time now, she has been experimenting with translation, astrology and rage as political weapons against colonialism. Despite the fact that she never attended a drama school, her migration and generational trauma pushed her to pursue performance as a medium of artistic expression.
She is also part of the art collective Mil M2, with which she explores collective practices in public spaces as political tools.