✕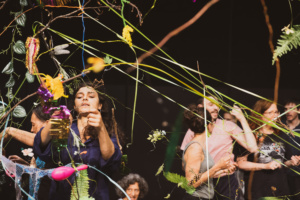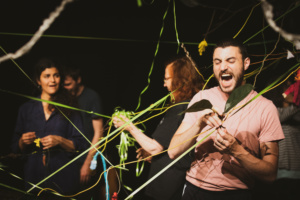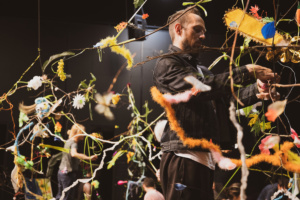 Nicole Seiler (CH)
Liquid Families
Performance / Installation
environ 3h20 - Possibilité d'entrer et sortir

F

Hearing-impaired spectators welcome

C

Young audience welcome (8+)

A

Little or no text
Conception, chorégraphie: Nicole Seiler. Installation et Fundus: Gerda Steiner, Jörg Lenzlinger. Cheffe de chœur, travail de voix: An Chen. Performance: Pascale Andreae, Gabriel Arellano, Léna Bagutti, Auguste de Boursetty, Collin Cabanis, An Chen, Leila Chakroun, Aline Choulot, Zoé Cornelius, Karine Dahouindji, Camille De Jaegher Narbel, Carole Dessauges, Laura Gaillard, Rosangela Gramoni, Trevis Guerreiro, Christophe Jaquet, Michele Luchetti, Nathalie Mastail-Hirosawa, Nicolas Mueller, Gabriel Obergfell, Serge Teuscher, Léa Trolliet. Costumes: Auguste de Boursetty. Assistante: Laura Gaillard. Collaboration dramaturgique: Fabrice Gorgerat. Direction technique: Vincent Deblue. Assistante technique: Charlotte Roche-Meredith. Administration: Laurence Rochat. Diffusion: Martin Genton.
Coproduction: Cie Nicole Seiler. Arsenic - Centre d'art scénique contemporain, Lausanne, (en cours). Soutiens: Ville de Lausanne, État de Vaud, Loterie Romande (en cours).
Une collaboration avec le Festival de la Cité, Lausanne.
Continuing the exploration of voice in the choreographic field, the moving choir at work in Liquid Families combines professional and amateur performers. Over the course of several hours, Liquid Families explores the mechanisms of collaboration and constructs an installation designed with the visual artists Gerda Steiner and Jörg Lenzlinger. Framed by a precise process and an essential quality of listening, Liquid Families attempts to form a group whose choreographic gestures and voices are in such harmony that that the transformation, although improvised, is experienced by all simultaneously.
As in rituals, what is important here is the process – the cooperation and creation of a temporary community, in which voice and movement are linked, turning the body into a total instrument.