✕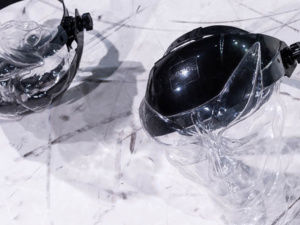 Nagi Gianni (CH)
Antilopes
Danse
80'

F

Hearing-impaired spectators welcome

B

Accessible to persons with reduced mobility
Concept et direction: Nagi Gianni. Chorégraphie en collaboration avec les performeur·euse·x·s: Elie Autin, Marius Barthaux, Chienne de Garde, Florian Schlessmann, Katarzyna Sikora. Accompagnement dramaturgique: Laura Spozio. Accompagnement à la mise en scène: Natasza Gerlach. Œil extérieur: Simone Aughterlony. Univers sonore: Chienne de Garde. Assistant production musicale: Stephen Band. Lumières: Jacqueline Sobiszewski. Réalisations scénographiques: Christophe Bozet. Costumes: Irène Schlatter, Aline Courvoisier & Nagi Gianni. Masques: Nagi Gianni. Teaser: Luca Reichenbach. Ingénieur son: Stephen Band. Remerciements: Nancy Stamatopoulou, Denis Waldvogel. Production: HYENA. Diffusion et administration: Anna Ladeira et Mathias Ecoeur – Ars Longa. Production: Théâtre de l'Usine, Genève, Arsenic – Centre d'art scénique contemporain, Lausanne. Soutiens: Ville de Genève, Loterie Romande, Fondation Ernst Göhner, Fondation Nestlé pour l'Art, Fluxum Foundation, Fondation suisse des artistes interprètes SIS.
Antilopes is a play for surviving, thriving and imagining a possible future, facing a crisis, finding comfort, collaborating on solutions, reaching out to the world and giving it all. Nagi Gianni's choreographic work transports an emancipatory desire into a universe between laboratory and video game, where physical, emotional and social landscapes are redrawn, making unexpected and free assemblages appear as starting points for a relationship with the other. The white arena becomes a playground for five performers, whose bodies are returned to an embryonic state. Our knowledge about these organisms and their affects is developed in a set of semi-friendly, semi-aggressive interactions, producing a certain distance from the norm. The boundaries between curiosity and necessity, between humanity and animality, between flesh and metal are blurred in order to attempt the invention of a new history…
Nagi Gianni is a multidisciplinary artist who trained in Fine Arts at the HEAD in Geneva. In parallel, he developed his approach to the body and movement by attending dance workshops and by collaborating regularly with performers, choreographers and directors. In 2018 he took part in the danceweb programme at the Impulstanz festival in Vienna, the same year he is nominated for the Swiss Performance Prize. In his work, Nagi Gianni stages the human body as an element and as a vehicle to express the complex nature of social relationships. He develops experimental frameworks that serve as a laboratory for improvised actions and choreographies. Props, costumes and masks, projections and sound serve his characters both as a background and as a mirror of their emotional states. His handcrafted masks are an extension of the characters and their visual identities, and define the notion of individuality within a given group or community.