✕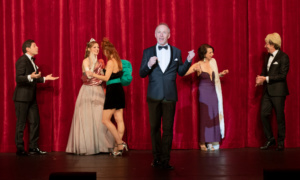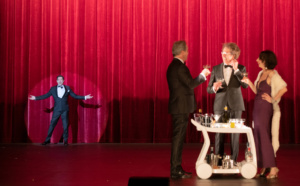 Marco Berrettini (CH)
No Paraderan
Danse/Théâtre
1h45

G

Hearing loops

B

Accessible to persons with reduced mobility
Direction artistique: Marco Berrettini. Assistante: Chiara Gallerani. Interprétation: Marco Berrettini, Jean-Paul Bourel, Valérie Brau-Antony, Ruth Childs, Bruno Faucher, Chiara Gallerani, Gianfranco Poddighe, Antonella Sampieri. Scénographie: Bruno Faucher, Marco Berrettini, en collaboration avec Jan Kopp. Création lumières: Nicolas Barrot, Bruno Faucher. Régie son: Felix Perdreau. Direction technique: Nicolas Barrot. Production, diffusion: Tutu Production – Pauline Coppée. Production: *Melk Prod./Tanzplantation. Coproductions: Théâtre des Amandiers, Nanterre, ImPulsTanz – festival international de danse, Vienne, Comédie de Genève, Arsenic – Centre d'art scénique contemporain, Lausanne, Charleroi Danse. Soutiens: Pro Helvetia – Fondation suisse pour la culture, Fondation du jubilé de la Mobilière Suisse.
www.marcoberrettini.com
Sparking a scandal fifteen years ago when it was first performed in Paris at the Festival d'Automne, No Paraderan takes the opposite stance to the famous Parade, the total spectacle designed in 1917 by Jean Cocteau, Erik Satie, Pablo Picasso and Léonide Massine for the Ballets Russes. Here, the seven dancers turn the argument on its head, refusing to dish up a spectacle. Dressed up for a gala, the protagonists spend the evening in front of a curtain that will never open. This eminently subversive piece on desire and frustration, described at the time as a "fraud" by Le Figaro and a "bad joke" by Le Monde, has become almost mythical. In a time when the society of the spectacle is turning to buffoonery, it's time to dust off the tuxedos!
Marco Berrettini is an Italian dancer and choreographer born in Aschaffenburg. His interest in dance began in the disco. In 1978 he won the German championship of Disco dancing. He studied at the London School of Contemporary Dance and then at the Folkwang Universität der Künste in Essen, under Hans Züllig and Pina Bausch. He then set up his own company, Tanzplantation – subsequently *MELK PROD – in Wiesbaden. In parallel, he studied European ethnology, cultural anthropology and theatre sciences at the University of Frankfurt. Since then, Marco Berrettini has produced about thirty shows. His activities range from performances in museums to collaborations with film directors, from installations with visual artists to dinners with famous people who don't know him.