✕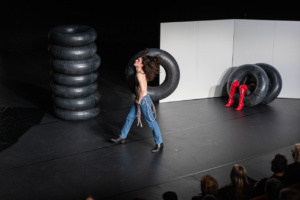 Alexandra Bachzetsis (CH)
Notebook
danse
60'

F

Hearing-impaired spectators welcome

A

Little or no text

B

Accessible to persons with reduced mobility
Conception et chorégraphie: Alexandra Bachzetsis. Collaboration concept et dramaturgie: Dorota Sajewska. Collaboration chorégraphie et performance: Alexandra Bachzetsis, Antoine Weil, Alban Schelbert. Collaboration chorégraphie et recherche sur le mouvement: Owen Ridley-Demonick. Partenaires de dialogue et de recherche par ordre chronologique: Lies Vanborm, Safiya Sinclair, Michel Auder, Emi Curty, Zeltia Robin, Marco Delgado, Nadine Fuchs, Lili-Marlo Delgado Fuchs, Mélissa Biondo, Loren Tschannen, Antoine Weil, Owen Ridley-Demonick. Musique et conception sonore: Alban Schelbert. Orgue joué par Joseph Schelbert, enregistré par Alban Schelbert. Production musicale «Kokainopotis» à Athènes: Bouzouki joué par Manoulis Pappos, guitare classique jouée par Marios Mourmouras, enregistré et édité par Stefanos Konstantinidis, Nassos Sopilis, Fabrika Music. Costumes, conseils conceptuels et recherche: Christian Hersche, Ulla Ludwig, Laurent Hermann Progin. Communication, graphisme: Julia Born. Photographie: Diana Pfammatter. Assistante photographique: Andrea Ebener. Coiffure et maquillage: Delia Scullio, Helve Leal. Direction technique, collaboration scénographie et lumière: Patrik Rimann. Production et gestion: Association All Exclusive, Franziska Schmidt. Administration: Association All Exclusive, Juliana Simonetti. Gestion de tournée: Something Great, Rui Silveira. Assistance au studio et à la gestion de la tournée: Giuliana Beya Dridi. Gestion des archives et recherche: Jean-Marie Fahy.

Coproductions: Kunst Halle, Sankt Gallen, Gessnerallee, Zürich, Tanzquartier, Wien, Tba - Teatro Do Bairro Alto, Kaserne, Basel, Arsenic - Centre d'art scénique contemporain, Lausanne, Dampfzentrale, Bern. Remerciements: Giovanni Carmine, Sotiris Vasiliou, Adam Szymczyk. Soutiens: convention de coopération entre la ville de Zurich, le canton de Zurich et Pro Helvetia - Fondation suisse pour la culture, Ernst Göhner Stiftung.
The new solo project by Alexandra Bachzetsis is a profound and lustful exploration by the performer of her own biography as a dancer, choreographer and artist. The piece was not created in isolation, but within the framework of a serie of dialogues, a method developed by Bachzetsis especially for this project.
Themes such as lust, sexuality, excess, innocence, pain and ephemerality are addressed in the form of performative notes that manifest themselves in a plurality of voices, images, bodies and objects. The notebook as an indispensable companion of the artistic process, as a private archive of creative work and as a storehouse of ideas for imagined future projects thus reflects Bachzetsis' artistic affinity for the fragmentary, sketchy, unfinished in creative and performative thinking processes. Here, the body becomes a physical archive of other bodies, the most subversive form of presentation of experience as well as a place of permanent mediation between past and present, event and documentation, originality and quotativeness.
Alexandra Bachzetsis (b. 1974) is a choreographer and visual artist who lives and works in Zurich. Her artistic practice is located at the interface between dance, performance, visual art and theatre. Many of her works are concerned with choreographies of the body and in particular with the ways in which we appropriate gestures, modes of expression, patterns of identification and fantasies from popular culture as we constantly reinvent and define our bodies. Bachzetsis is interested in the reciprocal influence of 'popular commercial' media (social media, video clips and television) and 'art' (ballet, modern and contemporary dance, performance and visual art).