✕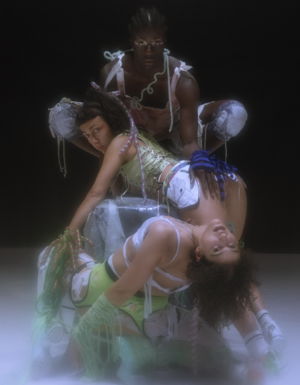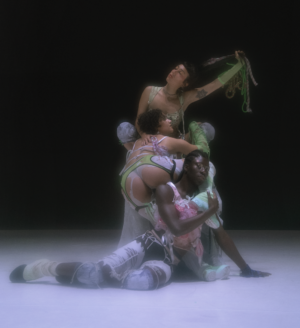 Tamara Alegre (IC/CH/SE) w Élie Autin (FR/CH), Marga Alfeirão (PT/DE), Cuba (ES/CU)
NX FUIMO
Danse
environ 45'

F

Hearing-impaired spectators welcome

E

Partially-sighted spectators welcome

A

Little or no text

B

Accessible to persons with reduced mobility
concept et chorégraphie: Tamara Alegre. interprétation et chorégraphie: Élie Autin, Marga Alfeirão, Cuba, Tamara Alegre. création musicale: Talisto et Dinamarca (avec un remix de Throat by Gage), remix: Soraya Lutangu Bonaventure. le morceau An early 2K20 post-club experience: GOLCE. costumes: Abrenos Tanga. recherche costumes: Giulia Essyad. scénographie: Ceylan Östürk. recherche maquillage: Chaïm Vischel. conseils en chorégraphie: Lydia Ö Diakité. regard extérieur: Karina Sarkissova. technique et lumière: Celine Ribeiro Castro et Sel Dir Melaizi. presentation text: Valentina D'Avenia avec Tamara Alegre. photos, video: Gaïa Lamarre. production, administration: Ars Longa. Coproduction: Arsenic - Lausanne, MDT – Stockholm. partenaires: Ville de Lausanne, Loterie Romande, Fondation SIS. remerciements: Eytana Acher, Ali-Eddine Abdelkhalek, Manu Amina.
[Due to an injury, sunday's show unfortunately has to be cancelled. With our apologies]
NX FUIMO is the second piece of a triptych initiated with FIEBRE (2018), a choreographic spell and a journey through thresholds of alienation and resistance. this work is a research of embodiments around sexual organs and erotic union where complex emotions, self-pleasure and a strong desire to dance together cohabit.
in slang, "nos fuimos" is an expression that announces that the departure has already taken place even if we are still here physically; it also means "let's gooo", we are leaving.
through the sound vibrations and the wind in our cloacas (one and the same channel that connects all the vital functions related to the lower abdomen) the dance becomes a space of outlet, cleansing and mutual support.
connection and contamination triumph.
*the NX FUIMO team has voluntarily removed all capital letters from this text, following afro-feminist literary currents (bell hooks, tatiana nascimento), in order to pursue the writing of a non-hierarchical and non-obedient language.