✕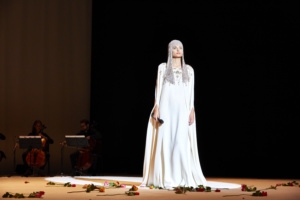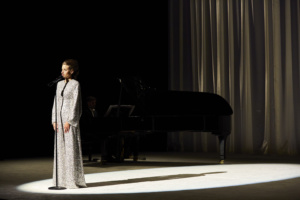 Rébecca Balestra (CH)
Olympia
Théâtre
75'

G

Hearing loops

E

Partially-sighted spectators welcome

H

Représentation Relax

B

Accessible to persons with reduced mobility
Texte, mise en scène et interprétation: Rébecca Balestra. Interprétation au piano: Grégory Regis. Et la participation de l'ensemble The Swiss Cellists de la HEM – Haute École de Musique de Genève Alexandre Alvarez, Gustave Bourgeois, Lisa Cailleton, Camille Coisne, Leo Coq, Angela Escauriaza, Laureline Rolland et Kivia Santos. Composition et adaptation orchestrale: Andrès Garcia. Direction musicale: Antoine Marguier. Préparation musicale: Ophélie Gaillard. Lumière: Dinko Baresic. Coiffure, maquillage: Katrine Zingg. Costumes: Ingrid Moberg. Assistanat à la mise en scène Joël Hefti. Production: Comédie de Genève. Coproduction: TPR La Chaux-de-Fonds, CDN Besançon Franche-Comté, Festival La Bâtie, Arsenic - Centre d'art scénique contemporain. Soutien: Programme européen de coopération transfrontalière lnterreg France-Suisse 2014-2020 au sein du projet MP#3, Fondation Leenards, Loterie Romande.
«Shit, I'm shit.» Minuit soleil. – Rebecca Balestra
Just like those great oldies that you can listen to over and over again, Rebecca Balestra's lyrics have a cathartic power. Blurring genres, mixing the prosaic with the poetic, humour with despair, Olympia compiles powerfully authentic, topical lyrics, performed in a sophisticated recital atmosphere. You may have discovered her slams in Tropiques (2015) at the TU, or in Show set (2017) at the Arsenic or even more recently at the Comédie de Genève, where she recreated a Piano-bar (2019) atmosphere by combining her writing with repertoire music. The author and performer then took the opportunity to deepen and enlarge the scope of this intimate piece. Searching for truths in the simplest of ways, Olympia tells us the stories, among others, of a divorced parent addicted to porn, of a woman who is endlessly nursing a hangover, and of a sunset in a nursing home.
DIM 03 OCT
REPRÉSENTATION RELAX
Les représentations Relax ont pour but de proposer un accueil plus adéquat pour des personnes en situation de handicap, leur permettant ainsi d'avoir accès aux spectacles d'arts vivants dans de bonnes conditions. Concrètement, les artistes jouent leur spectacle mais des adaptations techniques sont apportées si nécessaire (effets spéciaux ou sonores atténués) et l'accueil du public est beaucoup plus souple (lumière dans le public, possibilité d'entrer/sortir, de s'exprimer…).
www.relax-theatre.ch