✕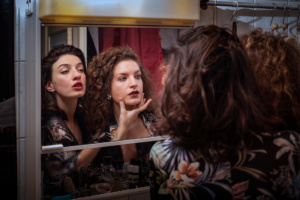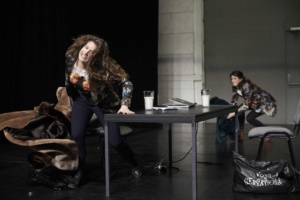 Tatiana Baumgartner, Caroline Imhof (CH)
On n'est pas venues les mains vides!
Théâtre
75'

B

Accessible to persons with reduced mobility
Conception, mise en scène, scénographie: Tatiana Baumgartner, Caroline Imhof. Jeu: Tatiana Baumgartner, Caroline Imhof, Édouard Hugli. Aide à la dramaturgie: Mathias Brossard. Construction: Jean-Michel Modoux. Création lumière, régie générale: Édouard Hugli. Réalisation teasers: Audrey Bersier. Vidéo et visuel: Ali-Eddine Abdelkhalek. Création sonore: BOL. Mixage sonore: Egemen Dumlu. Administration: Marianne Aguado – ISKANDAR. Production: Cie SÖRÖRÖ. Coproduction: Arsenic – Centre d'art scénique contemporain, Lausanne,
PREMIO – Prix d'encouragement pour les arts de la scène, Pour-cent culturel Migros, Ernst Göhner Stiftung, Pro Helvetia
. Soutiens: Ville de Vevey, Loterie Romande Vaud, Fondation Casino Barrière Montreux, Fondation Brentano, Fondation Jan Michalski.
Tatianö and Carolinö, two actresses going through an existential crisis, both fans of tarot and Bach flower remedies, decide to stage their first play. Following a meeting in the very theatre they were coveting, what once seemed impossible becomes a reality: they are programmed. Turning into power-hungry tyrants, they bully their artistic team – reduced to two men, for budgetary reasons. The day of the premiere, nothing goes as planned… On n'est pas venues les mains vides! is the satirical staging of a human shipwreck, but also a hilarious drama that brings with it the hope of a better future.
Tatiana Baumgartner graduated from HETSR la Manufacture in 2013. Her career path has led her to create several collective projects between performance and music, shown in different theatres, festivals and art centres. As a child, she studied violin and music for more than fifteen years at the Conservatoire de Lausanne. The themes that inspire her most are power figures and relations, identity, gender, male-female relationships, and esotericism. In parallel to her new show On est pas venues les mains vides !, she is currently developing a contemporary Tarot deck in collaboration with the graphic designer Gaëlle Renaudin.
After studying opera singing and piano at the Conservatoire de musique de Genève, Caroline Imhof trained at the Cours Florent in Paris and then at the Manufacture HETSR in Lausanne where she graduated in 2013. Since then, she has performed in various plays under the direction of Philippe Ulysse, Charlotte Huldi, Denis Maillefer and Isis Fahmy among others. Her screen appearances include the Swiss-German series Frieden, directed by Michael Schaerer and selected for the Zurich Film Festival 2020, as well as the German film Durchschaut, directed by Frederik Maarsen, in which she plays the lead female role. The film was selected for the 55th Solothurn Film Festival.