✕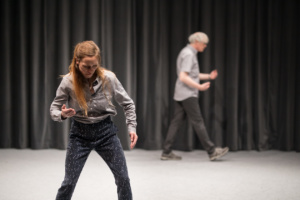 Sekunden Später- Nicole Seiller © Gregory Batardon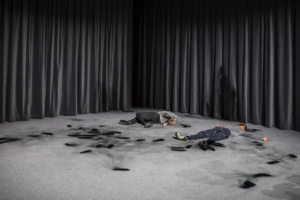 Sekunden Später- Nicole Seiller © Gregory Batardon
NICOLE SEILER (CH)
Sekunden später… zog sich die Gestalt in die Schatten zurück
Dans le cadre des Swiss Dance Days*
Concept et chorégraphie: Nicole Seiler. Interprétation et chorégraphie: Anne Delahaye, Christophe Jaquet. Interprétation et texte: Séverine Skierski. Lumière, scénographie et vidéo: Stéphane Gattoni. Design 3D et vidéo: Moritz Köhler. Musique: Stéphane Vecchione. Costumes: Claude Rueger. Administration: Laurence Rochat. Diffusion: Michaël Monney. Coproductions: Cie Nicole Seiler, Arsenic – Centre d'art scénique contemporain. Soutiens: Ville de Lausanne, Etat de Vaud.
French version WED 6th FEB
English version THU 7th FEB
With Sekunden später… zog sich die Gestalt in die Schatten zurück Nicole Seiler continues her exploration of danced language and our memory of movement. In a set that is as minimal as it is imposing, two performers and their shadows – created through 3D video technology – lead the audience into a poetic spatial-temporal spiral in which reality, time and memory form a single entity. By drawing on the suggestive potential of audio description, Nicole Seiler delivers a thoughtful performance that harnesses the power of evocation and enlivens the spectators' imaginations.
Nicole Seiler Trained at the Vlaamse Dansacademie (BE) and Rudra Béjart, she explores the complexity of the various links between two essential elements of performance: image and sound. Her research has led to the creation of singular and innovative pieces: scenic performances, video and site-specific work, as well as choreographic performances and installations. Founded in 2002 in Lausanne, her company has toured internationally and received various honours notably in the domain of video dance. In 2009 Nicole Seiler won the Dance Prize from the Fondation Vaudoise for Culture.
*Tarifs Swiss Dance Days:
CHF 15.- plein tarif
CHF 12.- tarif réduit
(hors abonnement Arsenic)