✕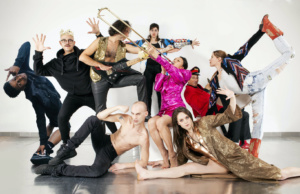 Marie-Caroline Hominal (CH)
Sugar Dance
Danse
60'

F

Hearing-impaired spectators welcome

G

Hearing loops

E

Partially-sighted spectators welcome

C

Young audience welcome (8+)

B

Accessible to persons with reduced mobility
Concept, chorégraphie, direction artistique: Marie-Caroline Hominal. Interprètes: Sophie Ammann, Salomon Asaro-Baneck, Matthieu Barbin, Marie-Caroline Hominal, Caroline Lam, Mounir Margoum, Samuel Pajand, Sandro Rossetti, Véronique Valdès. Costumes: Olivier Mulin. Composition du décor, scénographie: Marie-Caroline Hominal. Lumière: Victor Roy. Organisation de la tournée: Yann Gioria. Direction technique : Pierre Montessuit. Régie générale: Jonathan Simarro. Production: Emilie Marron. Administration: Gonzague Bochud. Presse: Rosine Bey. Coproduction: ADC – Association pour la danse contemporaine, Genève, Arsenic – Centre d'art scénique contemporain, Lausanne. Soutiens: Loterie Romande, Fondation Leenaards, Fondation Ernst Göhner. Accueil en studio: studios de l'ADC, Genève. MadMoiselle MCH est subventionnée par la Ville de Genève et le Canton de Genève.
www.mariecarolinehominal.com
Sugar Dance brings together nine performers of performing arts archetypes in a specific setting and offers a different venue, which puts the time of rehearsal and the time of performance into friction. From circus to opera, from dance to music, Sugar Dance lifts the veil on what unfolds behind the scenes a few hours before nine multi-talented performers take the stage, showing what usually remains hidden. Recognised as an exceptional dancer in 2019 by the Prix suisses de danse, Marie-Caroline Hominal focuses with her new piece on the notion of a troupe of artists. She chooses the pre-show as her setting – a time of waiting, concentration and rehearsal. An off-stage space with a heterogeneous landscape, where a kind of organised chaos reigns, drawing on popular, modern and classical culture, creating joyful, tender and tragicomic aesthetic clashes.
The Franco-Swiss choreographer Marie-Caroline Hominal trained as a dancer at the Schweizerische Ballettberufsschule in Zurich, then at the Rambert School of Ballet & Contemporary Dance in London, where she joined the National Youth Dance Company. Her artistic practice includes text, music, dance, performance and video and has led to numerous collaborations in Switzerland and abroad. The formats of her works are usually determined by circumstances or themes, but they all share the same universe, a baroque world in which identities become blurred, and the tragic and the comic merge. It can sometimes be darker, tending towards murky ceremonies, which are sometimes eccentric, sometimes more melancholic, revealing the disquiet and unease hiding behind the make-up and glitz.