✕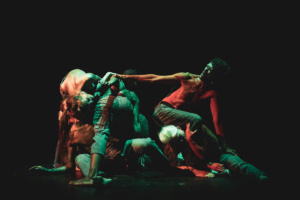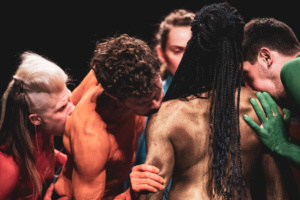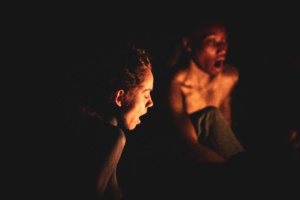 Nicole Seiler (CH)
The rest is silence
Dance
~60'

F

Hearing-impaired spectators welcome

G

Hearing loops

A

Little or no text

D

2020-01-19 17:30
Conception, chorégraphie: Nicole Seiler. Danse, chorégraphie: Marius Barthaux, Karine Dahouindji, Anne Delahaye, Dominique Godderis-Chouzenoux, Christophe Jaquet, Gilles Viandier, Aure Wachter. Musique: Stéphane Vecchione.
Scénographie: Vincent Deblue.
Travail de voix: An Chen. Lumières: Antoine Friderici. Costumes: Cécile Delanoë. Pyrotechnique: Joran Hegi. Musicologues: Pierre-Do Bourgknecht, Dieter Ringli. Administration: Laurence Rochat. Diffusion: Michaël Monney. Production: Cie Nicole Seiler. Coproduction: Arsenic – Centre d'art scénique contemporain, Lausanne. Soutiens: Ville de Lausanne, État de Vaud, Loterie Romande, SSA – Société Suisse des Auteurs, Sophie und Karl Binding Stiftung, Fondation Thomas Stanley Johnson.
Site de l'artiste
Making up a community with an imaginary folklore, seven dancers form a choral group and explore the limits of co-existence through song. How does a group evolving in unison reach a point of separation? What is the place of individuality within a society? How does a song move from communion to exclusion? Where is the line between joyful explosions and warlike detonations? Nicole Seiler, an internationally renowned Swiss choreographer, refines her work around the relationship between body and sound by experimenting with the physicality of the latter: what the body alone can produce, in its interiority and exteriority.
Born in 1970 in Zurich, Nicole Seiler created her company in 2002. Her artistic approach is largely focused on the relationship between image and video. Her research into video and choreography has led to the creation of innovative works, dance and multimedia, videos, choreographic installations, performances and site-specific works that aim to keep the audience active in their interpretation of the work. Since 2010 her research focuses mainly on the relationship between image and sound and led her to explore the description of movement, from both a historical and personal point of view, but also more generally to question how image and sound connect in our memories.