✕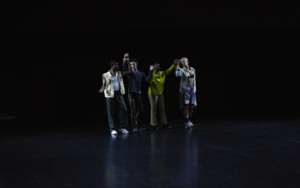 Alex Baczynski-Jenkins (PL/UK)
Unending love, or love dies, on repeat like it's endless
Danse
2h - Possibilité d'entrer et sortir

F

Hearing-impaired spectators welcome

G

Hearing loops

A

Little or no text

B

Accessible to persons with reduced mobility
Chorégraphie: Alex Baczynski-Jenkins. En collaboration avec les performeur·se·xs: Aaa Biczysko, Arad Inbar, Beverly D. Renekouzou, Thomias Radin. Conseils artistiques et création sonore: Krzysztof Bagiński. Collaboration à la création sonore: Zoi Michailova. Création lumière: Jacqueline Sobiszewski. Dramaturgie: Andrea Rodrigo. Poèmes: Ezra Green. Remerciements: Dareen Abbas, Thibault Lac. Studio manager: Sarie Nijboer. Studio curator, tour manager: Andrea Rodrigo. Productrice exécutive: Holly Shuttleworth.
Coproductions: Arsenic – Contemporary Performing Arts Center, Lausanne, ANTI FESTIVAL, Kuopio, De Singel, Antwerp, Disappearing Berlin - Schinkel Pavillon, Berlin, KIASMA, Helsinki, Kunsthal Charlottenborg, Copenhagen, Kunstverein Düsseldorf and Aachen, Kunstverein Cologne, Klosterruine, Berlin.
Accueil en résidence: Callie's, Berlin. Soutiens: NATIONALES PERFORMANCE NETZ (NPN). Coproduction Fund for Dance, which is funded by the Federal Government Commissioner for Culture and the Media.
Unending love, or love dies, on repeat like it's endless is a choreography that reflects on the relations of desire, dance, fragmentation, love (as communality), loss and time.
Through gesture, sensuality, touch and relationality, Baczynski-Jenkins' practice unfolds structures and politics of desire. Relationality is present in the dialogical ways in which the work is developed and performed as well as in the materials and poetics it invokes. This includes tracing relations between sensation and sociality, embodied expression and alienation, the textures of everyday experience, the utopian and latent queer histories. He approaches choreography as a way of reflecting on the matter of feeling, perception and collective emergence, while indulging in other ways of experiencing memory, time and change.