✕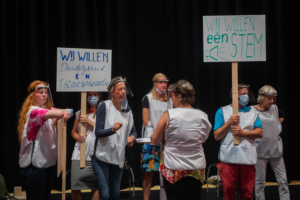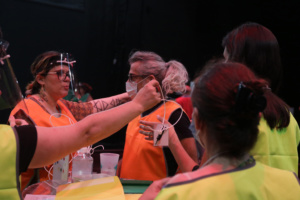 Yan Duyvendak, Kaedama, Philippe Cano (CH)
VIRUS
Performance
120'

B

Accessible to persons with reduced mobility
Concept: Yan Duyvendak. Conception du jeu: Corentin Lebrat, Théo Rivière/Kaedama. Conseil scientifique: Dr Philippe Cano. Animation: Delphine Abrecht, Jean-Daniel Piguet (FR), Jan-Peter Horstmann, Anne Schäfer, Sarah Ulrich (DE), Marian Van Voorn, Milan van der Zwaan (NL). Rédaction des règles de jeu: Delphine Abrecht, Jean-Daniel Piguet. Lumières: Vincent Millet. Documentation vidéo: David Daurier. Assistanat: Tomas Gonzalez, Pierre-Angelo Zavaglia. Régie générale: Eric Mutel, Stéphane Leclercq. Direction administrative: Marine Magnin. Développement international: Judith Martin/Ligne Directe. Production créative et communication: Charlotte Terrapon. Production: Dreams Come True, Genève. Coproduction (en cours): La Comédie, Genève (CH), Arsenic – Centre d'art scénique contemporain, Lausanne (CH), Les SUBS, lieu vivant d'expériences artistiques, Lyon (FR), Hellerau – Europäisches Zentrum der Künste, Dresde (DE), International Summer Festival Kampnagel, Hambourg (DE), Scène nationale Carré-Colonnes/Bordeaux Métropole (FR), le phénix scène nationale Valenciennes (FR), Grand Theatre/Noorderzon Festival, Groningue (NL), Zürcher Theaterspektakel (CH), Centre d'art contemporain, Genève (CH). Accueils en résidence saison 2019-2020: La Comédie, Genève (CH), Arsenic – Centre d'art scénique contemporain, Lausanne (CH), Les SUBS, lieu vivant d'expériences artistiques, Lyon (FR). Soutiens: Ville de Genève, République et Canton de Genève, Pro Helvetia – Fondation suisse pour la culture, Pour-cent culturel Migros, CORODIS, Loterie Romande, Fondation suisse des artistes interprètes SIS. Remerciements: Bourse de compagnonnage Ville de Lausanne, Canton de Vaud, Georges Romero, Robert Lewetzky, Alexandra Nivon.
Everyone now has an opinion on how an epidemic should be managed. But how would you manage it yourself? And what would be the outcome of your decisions? Since 2018, based on the experience of the EBOLA epidemics in Africa, scientists have been carrying out simulations that have been tested on people in the field (ministers, hospital managers and security forces). All of them are professionals, yet they were all baffled when it came to managing the unmanageable. Cie Yan Duyvendak accessed the scenarios used for these simulations, copied them and used them to develop a simulation game, scientifically validated, in collaboration with scientists and game developers. How to re- or deconstruct society? How to live together after all these months of isolation? How can we learn from what we have experienced? Surprisingly, VIRUS was designed before COVID-19 but you can play, collectively, your own way out. You are creating the world of tomorrow. By playing, rather than suffering.
Yan Duyvendak's career as a performance artist began in 1995 with the staging of his first work of live art, Keep It Fun For Yourself. Since then, he has produced a chain of creations and performances at venues around the world has gradually established himself as a reference in European performance. His art underlines in particular how the overwhelming mass of televised, computer and mental images as well as our social codes and other rituals of our fun society thicken the curtain between ourselves and reality. Yet his work never fails to affirm human dignity and show the extent to which it is imperiled by our image-dominated society. By recurring to playful procedures, his last creations invisible (2019) and VIRUS (2020) address the constitution of collectives and how collaboration and empathy can be conducive to empowerment. Co-authorship and collaborations are an intrinsic part of all his projects.