✕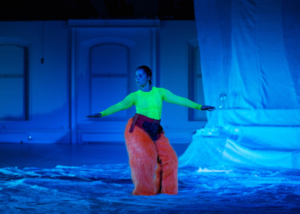 BamBam Frost (SE)
YES
Dance
75'

F

Hearing-impaired spectators welcome

G

Hearing loops

B

Accessible to persons with reduced mobility
Chorégraphe: BamBam Frost. Performance: BamBam Frost. Interprète invité: Lydia Diakité Östberg. Création lumière: Anton Andersson. Création son: Yared Cederlund. Scénographie: Lisa Berkert Wallard. Costumes: Hanna Kish. Collaboratrices dans le processus: Lydia Diakité Östberg et Alexandra Tveit. Production: Jessie McLaughlin & Sara Bergsmark (MDT), Nordberg Movement. Co-production: MDT, Säfsten Produktion. Soutenu par le Conseil suédois des arts, le Comité suédois des subventions aux arts, la ville de Stockholm et le projet Life Long Burning - Vers un éco-système durable pour la danse contemporaine en Europe (2018-2022) soutenu par le programme Europe créative de l'Union européenne.
Inspired by the idea of making revolution irresistible and the struggle for social justice as enjoyable as possible, BamBam Frost explores the pleasures hidden behind social dances and expressions of pop culture. YES questions the desire to be in, to produce and to enable constant social change. A dive into what has been and what is – letting ourselves be guided by pleasure-generating choreographic practices to radically imagine where we want to be. YES is the new creation by Swedish choreographer BamBam Frost, following her fantastic first show SORRY, which we hope to present to you during the next season. She describes it as an "almost solo, that is to say, a solo with a guest".
BamBam Frost is a dancer and choreographer based in Stockholm. She graduated from Stockholm University of the Arts, with a bachelor of contemporary dance spring 2013. In her work she has moved between the club scene, commercial work, music videos and art institutions. During the spring 2018 she debuted with the piece SORRY. BamBams work is in constant transformation and dialog with the now. There is a strong interest for social dances and pop cultural expressions. She plays with the thought of these as carriers of time, structures and context with which she through choreography can change the narratives of. Inspired by sci-fi BamBam uses choreography as a tool to imagine and propose alternatives.